Knighted Member
Join Date: Jul 2012
Location: Ohio
Posts: 2,683
June-Sept. 2012 puppies...
---
Post your updates, progress, pics, frustrations, changes, etc. here! I know there are a lot of us!
Sticking together is GREAT for those 'landshark' and house breaking days!
---
Wrath of Grim z Dragon
"Mr. Grim"- Threaten my handler. I dare you.
2 and a half more weeks! *bounce bounce*
I've been reading shepherd girl and all these new puppies threads here, I won't lie I'm a bit nervous now, lol! I have lots of experience with puppies but I think this GSD is going to be a whole new adventure.
I'm not sure if I should be excited or terrified.
---
Ollie vom Grunenfeld HIC CGC
Anastasia(Mishka) vom Feuergarten HIC
Knighted Member
Join Date: Jul 2012
Location: Ohio
Posts: 2,683
carriesue-some nerves are normal. I think you're going to do GREAT with your pup! Please do NOT use Grim as a litmus test for the landshark thing. He's making an art of it, LOL!
My update on Grim- I had taken him on one walk that took 45 minutes to go 2 blocks. He was sitting and whining at me (he's VERY vocal) frequently, and doesn't know cars... they do bother him when going past. So I had an epiphany and decided to have my wife walk the girls in front and Grim and I followed. He did SOOO much better! Even stopped to check out a couple of parked cars! He seems to have finally mastered going up steps. Tonight after he pottied, he headed for the steps and did NOT wait for me! Now, there are about 15 steps without backs to get up to the deck. He finally went up them with both front feet and both back feet at the same time. He was going so fast that by the time I walked the ten feet to the steps, he was already half way up!
We need more work on going down the stairs. He's a drama king, and will scream like someone's killing him even if I have good hold of him while walking him down. I know he'll get past this. Every new thing he's had to do he gets past. He used to howl about going up the stairs, and is now taking them like a champ! I don't push him with it, though. He's still curious about them, and will stand looking down the stairs inside (which do have backing and are carpeted.) I'm going to keep on walking him with the other dogs (or at least Layla) until he's happy going on walks and completely comfortable. He only pulled trying to get up front with the girls.. but we had issues with the leashes tangling. Most of the time he walked right next to me. He REALLY needs these walks to tire him out. I've had Layla training him on chasing toys I throw, LOL! It's GREAT if you have an older dog to help teach the younger one! He still has the attention span of a gnat. He eats like a horse! Bigger every day it seems. Still loves his crate and when he's tired he'll go down the hall and lay in front of it, waiting for his treat. If I'm in the bedroom resting on the weekend, my wife tells me he keeps walking down the hall looking for me.
My wife's old mutt was drinking from his water bowl, and Grim just walked over as if to say "Excuse me, but that's my bowl" and she growled at him. My Pug went flying across the room, blocked the mutt from the water bowl and growled and barked at her! LOL! I could just hear her saying "That's MY puppy! Don't mess with him!" It was something to see for sure! I can't wait to see her reaction when he's towering over her. She's also working with him on bite inhibition, but it doesn't seem to be crossing over to humans. We've just got to get him 100% on board with walks (which with another of our dogs isn't a problem) and get him going down steps. In another month, carrying him down just isn't going to be an option!
---
Wrath of Grim z Dragon
"Mr. Grim"- Threaten my handler. I dare you.
That's so cute, with a name like Wrath of Grim and he's afraid of cars lol! But in no time he'll be over it and completely ignoring them... That was a good idea though using the other dogs to help him be more confident. My golden never got spooked by anything, in puppy class the trainer would get frustrated by him because he wouldn't react to anything but last week when were we on a walk he got spooked and jumped about two feet off the ground when he saw a traffic cone.
I definitely think my other dogs help teach the puppies I have brought in especially with housebreaking!
I'm so excited for my pup, I'm trying to decide here if I should email my breeder and ask if I can come visit again or not, lol. I'm glad he's not here now though, I just came down with a cold a couple days ago... Having a pup now would have been... ruff.
It's funny none of my dogs will do what Layla does, it's my cat who will step in and defend whoever needs defending.
---
Ollie vom Grunenfeld HIC CGC
Anastasia(Mishka) vom Feuergarten HIC
New Member
Join Date: Oct 2012
Posts: 3
Me and my boyfriend got our first gsd puppy in September. It is my first dog ever so I am very much a newbie and have a lot to learn so any advice you guys have got would be great! He's 11 weeks now and is doing really great in general but potty training has been and still is quite a challenge. Probably not helped by the fact it is my first time trying to housetrain a puppy. So any advice would be great thanks.


Sent from my iPhone using PG Free
I got Rogue in September and she was born the end of June. She's a tiny little petite thing. But finally healthy and growing. She put on four pounds in two weeks
she's a total land shark right now. Early morning and nights she goes NUTS. She learns so quickly and has a great food and toy drive. I'm really enjoying her. We went to our local out door mall last week and just walked around. She watches everyone. But she was friendly and confident. Here's a couple pictures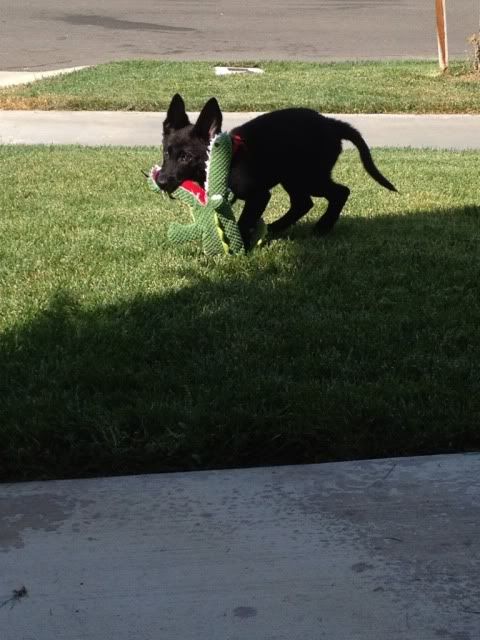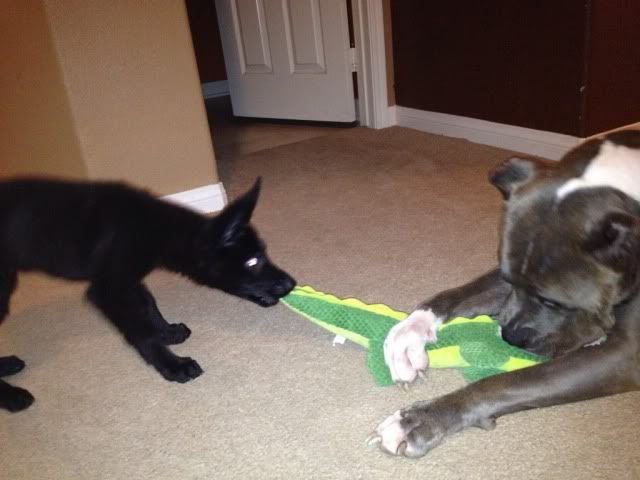 Sent from my iPhone using PG Free
Knighted Member
Join Date: Jul 2012
Location: Ohio
Posts: 2,683
Carrie- it was unfortunate that my breeder's way out in the country, so he'd never seen a car before. Same with grass...he walked really funny on our grass for a day or so!
However, I've NEVER seen this guy startle. My wife is still dropping things on purpose, lol. He's pulled all kinds of things over on himself without any reaction. However, we have a lot of kids in the neighborhood with 'tuned up' cars that are really loud....so a loud moving thing wasn't cool to him. However, on his second exposure to them that reaction was gone. If he'd kept reacting, I'd be worried. He's also never seen a lawnmower and when the lady two doors down was mowing, he just sat at the fence and stared at her. He can see the busy street from our yard, too, and will just sit and watch the cars go by. I think he's actually getting himself over things that he doesn't know....I was a little relieved that he reacted to SOMETHING... LOL!
Capone- your girl is gorgeous! That's a very cool name!
Charlie12- I finally gave in and increased Grim's crate time because of all the accidents. Now we're down to none. He's even going to the door. We always go straight from crate to door. He *can* hold it, but it was like he was forgetting... and going ten minutes after he went outside. He won't soil his crate, though...so that worked in my favor.
---
Wrath of Grim z Dragon
"Mr. Grim"- Threaten my handler. I dare you.
---
Last edited by Jag; 10-08-2012 at

12:27 PM

.
Capone your pup is so cute! Does that outdoor mall happen to be the one in Irvine? If not which one did you go to?

That's right Jag, I had forgotten he'd been born out in the boonies, it's so cute though watching them discover things they've never seen before... well as long as they're not too scared. Grim is going to be one spectacular dog! I still can't believe how much he's grown in the short time you've had him, GSD's seem to grow very fast... I need to make sure to take tons and tons of pics of my little guy!
---
Ollie vom Grunenfeld HIC CGC
Anastasia(Mishka) vom Feuergarten HIC
Thank u both
No are u talking about fashion island? I went to Victoria gardens in Rancho Cucamonga
Sent from my iPhone using PG Free
We need more pics in this thread
Sent from my iPhone using PG Free