Member
Join Date: Jun 2010
Posts: 71
How large are your neutered males? Age/Height/Length/Weight/Condition
---
Having never owned a male GSD before, I am curious where mine fits into the curve. Django was born February 9th and is almost 11 months old now.
If you measure how long your male is, let's not include the tail as they can vary greatly. Django's is rediculously long for his body length.
Age: 11 mos
Height: 28" at shoulder
Weight:90 lbs
Length: 42"
Body Condition: Slender - can see and feel ribs easily.
Age Neutered: 9 months
thanks!
Wow he is monstrous! My 16 month old intact male is 25' at the whither and 65lbs!
---
Ollie vom Grunenfeld HIC CGC
Anastasia(Mishka) vom Feuergarten HIC
Age: 4.5 years old
Height: 28-28.5" at shoulder
Weight: 90 lbs
Length: I will have to remeasure him, I posted his length on here once but I can't remember what it was?
Body Condition: In shape, on the thin side but can't see ribs because of hair length but you can feel them.

Age Neutered: 15 months
---
Lauren

Sinister ~ black male GSD 3.11.09
Draven ~ male Dalmatian 6.30.13
Age: 4.5 years
Height: 26.75"
Weight: 91 lbs
Length: not sure
Body Condition: Average. Not really overweight but I want to get a few pounds back off. Needs conditioning.

Age Neutered: 12 months

Standard height for male GSDs is 24-26".
---
Ryker: (USDAA) SR (DOCNA) C-BTA C-ISLA
Chandra: puppy in training!

Living forever in my heart, Solstice: (AKC) MX MXJ MJB (USDAA) PDCH (DOCNA) MEX-Bronze
Odin

Age: 5
Height: 29 1/2 in.
Weight: 133 lbs as of this morning
Length: 45 1/4 in.
Chest diameter: 40 in.
Body condition. Big and very thick, but toned very well.
Neutered at 3 yrs old.
DEXTER

AGE: will be 1 yr old approx jan 18
Neutered at 9 months.
Height 30" at shoulder
Length will have to measure but is longer than height
Weight was 92 lbs 2 weeks ago .on thin side can see a few ribs.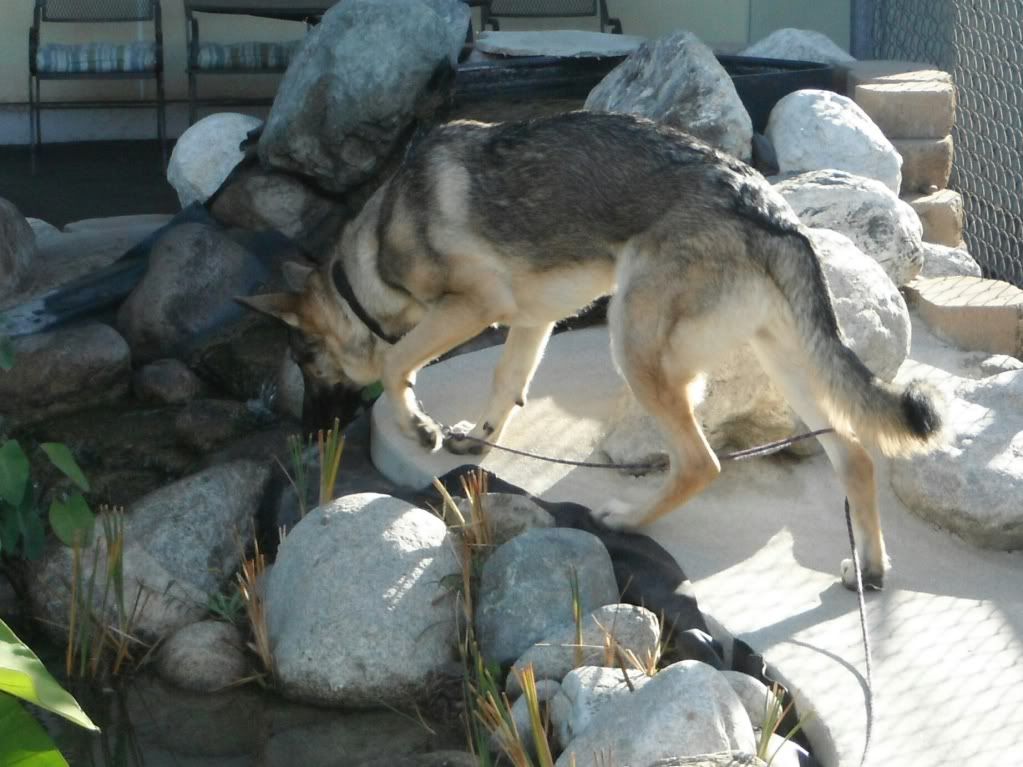 Heres a pic of Dex you can see how gangly he still is
Age: 15 mos
Height: 26" at shoulder
Weight:70 lbs
Length: not sure, he won't hold still :P

Age Neutered: 10 months
Member
Join Date: Dec 2013
Posts: 87
Name: Magick
Age: 1 year 3 months
Height: 66cm (26.4")
Weight: 37kg (81.4lbs)
Length: Wouldn't keep still long enough to be measured!!
Chest: Apprx 75cm (30")
Neck: Apprx 50cm (20")
Will neuter him at 3 years of age.
Senior Member
Join Date: Sep 2013
Location: Shediac NB canada
Posts: 452