Knighted Member
Join Date: Feb 2011
Location: Toronto Ontario
Posts: 2,081
how do gsds usually react to ferrets?
---
Someone wants to give me their ferret. My dog is fine with cats but will usually eat anything else. Small speedy dogs can really trigger my dogs prey drive like patterdale terriers or any speedy small dog but not french bull dog or pugs. Rabbits also. Shes fine with big birds like geese though.

You think it just not worth the risk? I am not sure why she has such a soft spot for cats.
Crowned Member
Join Date: Feb 2011
Location: ontario -
Posts: 12,499
usually with "ow , get this thing off my face !"
I wondered how my GSD would react to me bringing other animals into the house. She hated cats and all other dogs. The first pet I brought in was a parakeet. We caught it in our yard. Next we had a guinea pig visit and later adopted two of our own. Later still, we added two house rabbits. My dog accepted everything that was brought into the house. Never a problem. She didn't bother the small animals, but I also did not allow them freedom around the dog. I know some people do, but I was never that brave.

Does your dog have a good "Leave It!" command? Can you bring the ferret in for a visit and see how your dog reacts? I'm betting your dog would be OK.
Chrono goes crazy when he sees the ferrets at the pet store. He definitely wants to kill them. But he's not good with any small animals. I have parrots that he is absolutely not allowed near. He's not that great with the cats either.
---
To view links or images in signatures your post count must be 10 or greater. You currently have 0 posts.
To view links or images in signatures your post count must be 10 or greater. You currently have 0 posts.
Knighted Member
Join Date: Feb 2011
Location: Toronto Ontario
Posts: 2,081
i could probably force her to touch noses with it but if the ferret bounces around? My dog will listen but shes got very high prey drive. I dont let her play with small dogs that are speedy. no rat dogs ever, with small dogs she pretends shes a cat and scares the crap out of them. But shes totally safe with my cat. Id just hate to keep the ferret locked in a cage. But again I would hate to have something happen to it. WIth my cat and dog they have a bond so I dont worry about them. Years have gone by and they are never an issue. The cat does get annoyied if the dog licks her too much though.


My dog has caught birds and animals in the yard also.
---
Last edited by pets4life; 11-26-2012 at

06:44 PM

.
It depends on the dog and how and when they are introduced. Jazz has been around our 2 ferrets (both about 3 year old females) since we brought her home at 10 weeks. She does ok with them, but can get a little pushy and when she does our older ferret, Abbie, will bite her.
Our ferrets have their own room in the house that Jazz doesn't have access too, so any and all interaction is supervised. I wouldn't trust her alone with them, and it's not because I think she'd intentionally try to hurt them, but if and when she started to get to rough in trying to play with them and Abbie but back out of anger, I fear it could get a bit ugly at that point.
Ferrets are great pets, but with a GSD with a high prey drive I would make sure any interaction between a ferret and the GSD is closely monitored and supervised.
Here's some pics of Jazz with our ferrets: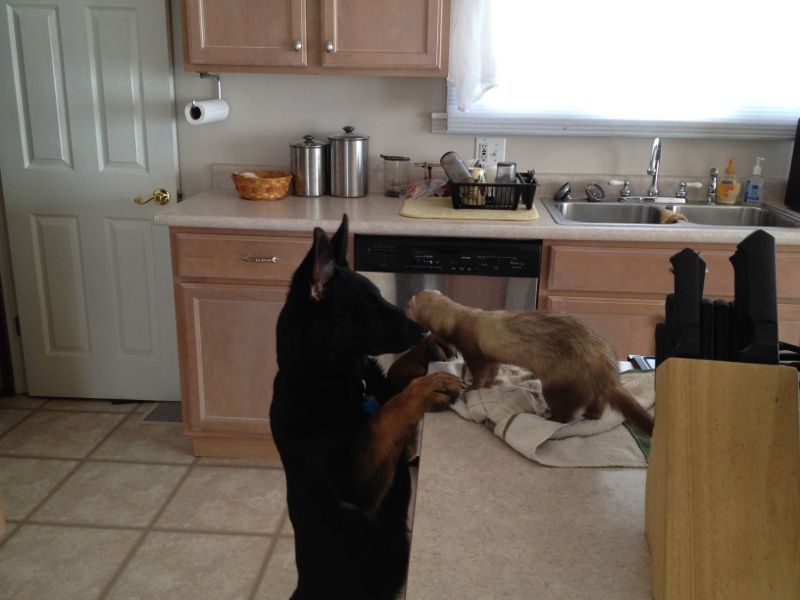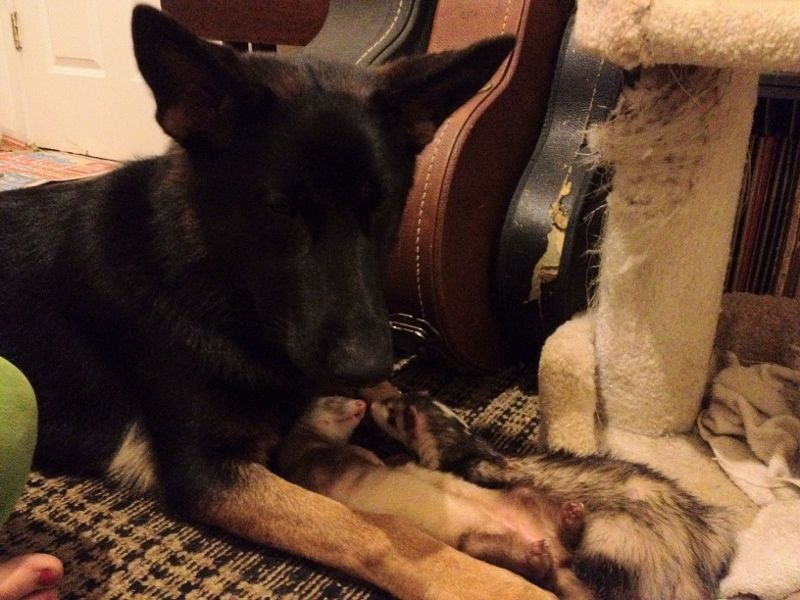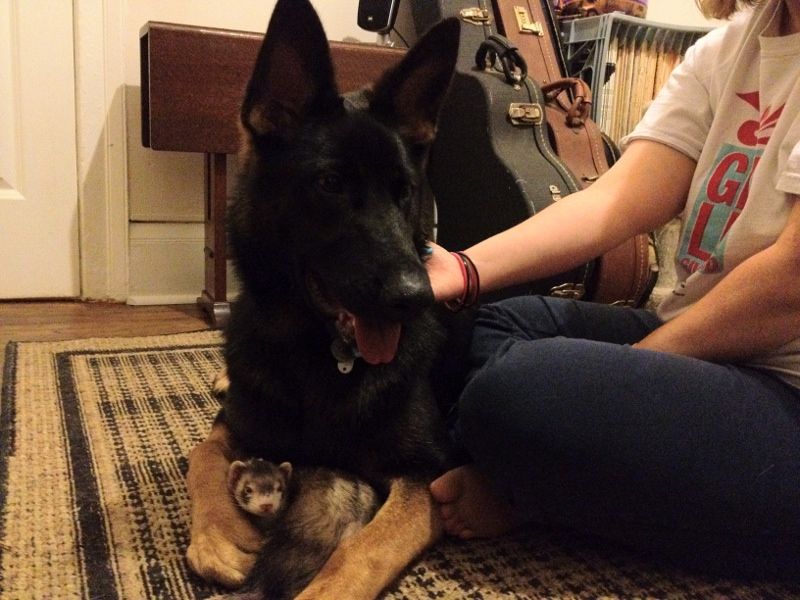 We had two ferrets. The dogs wanted to kill them for sure. We kept them separated at all times. They did meet in a very controlled way and it was clear that the dogs prey drive was way up.
---
Kelby's Charlotte Rose "Charlie" CGC 04-15-07
Captain Von Der Staatsmacht "Dude" BH 10-26-11
OMG that is the CUTEST!!!!

I"m sure every dog is different, my dogs tend to behave differently with small animals IN my house vs outside..they are fine with my cats, ok with my birds, but have seen them go 'after' a cat outside (not mine) and birds..

I probably would be ok bringing in a ferret, but might be a little dicey to begin with.

Can you keep the ferret in a cage , introduce and see how she reacts?? I would never leave a ferret alone with a dog tho, just in case
---
Diane
Ozzie vom Kleinen Hain
Danger Danger vom Kleinen Hain aka Masi
Tranquillo's Kizzy
Jakoda's Kholee
"Angel" Jakoda's Bewitchen Sami CD OA OAJ OAC NGC OJC RS-O GS-N JS-O TT HIC CGC
"Angel" Steinwald's Four x Four CGC HIC TT
"Angel" Harmonyhill's Hy Jynx NA NAJ NAC NJC RS-N JS-N HIC
"Angel" Jakoda's Jagged Edge
We own two ferrets and a 9 month old puppy. Stark has a be nice command which just basically means calm down and no rough housing. He is very fascinated with them and wants to play eith them so badly. But, we taught him to be calm around small animals. That being said, I would never trust him alone with them. We have them in a cage in the basement and we never have to worry about Stark being too wild around their cage, he just smells them through the bars and licks them. Not sure if you could train every dog to be that calm around small animals, especially ones such as nouncy and fun to play with as ferrets. I would imagine it depends alot on their prey drive and their obedience while distracted.
Knighted Member
Join Date: Feb 2011
Location: Toronto Ontario
Posts: 2,081
ken that is cool but were u more worried with the ferrets than with the cat? its just ferreets remind me so much of my dogs weasel toys that i bought and she ruined them in a matter of seconds and tore them apart. You know those dog toys they are in the shape of a weasel? Aare you more careful with the ferrets while the cats kinda get free range with the dogs? with my cat and dog i dont worry at all and my dog is such a prey driven nut. I like the peace here. But I always loved to have a ferret and they really wanna get rid of it. It is litter trained also. ITs a big male sable.

Yeah i could cage it at first or something but i would want it to be a free animal eventually like my cat is and not have to worry about it getting hurt. It does sound like they are not an animal that would ever be left unsupervised with a high prey drive working dog.
---
Last edited by pets4life; 11-26-2012 at

07:49 PM

.