Banned
Join Date: Jan 2009
Posts: 3,614
White G Shepherd / Husky Mix... Anyone?
---
It is such a long story how this has come about, but I now own a 14 week old White Shepherd / Husky mix pup. His mom is the WGSD. I know her well and although I don't own her, she has lived with me at times - and does now. (Son owns her)

Just wondering if anyone here owns a mix of these breeds? So far (I've had him a month) he behaves more like his mother. Wondering what the Husky influence may end up to be... His physical appearance is almost duplicate of his mom, too, other than his snout is a bit shorter. Everything else the same.

Just wondering if anyone has this mix and any info you can offer. Thanks.
I had a GSD/Husky mix, his name was Rogue.
He was a very sweet boy but very stubborn. He had a "what's in it for me" kind of attitude. He was very smart but acted like he couldn't hear me when I would give him a command.
He had food and toy aggression. I couldn't trust him off leash. He was suprisingly laid back for being half Husky. He got along wonderfully with my 3 cats. He had issues with people, he growled and barred teeth at a couple of them. He was a cuddle bug. Unfortunitly I could not handle him and made the decision to rehome him, but I still think about him all the time.
---
Lauren

Sinister ~ black male GSD 3.11.09
Draven ~ male Dalmatian 6.30.13
A husky trait is ............................ 100% ( THAT IS ALL THE TIME!!!!!!) undependable off leash. Bred to run and run and run and run some more !
---
Last edited by Powell; 08-10-2011 at

01:09 PM

. Reason: left out a letter
What you may experience as a puppy is going to be nothing like what they are as an adult. Huskies are NOT easy dogs. I own a pure bred Husky and just yesterday my boyfriend came home for lunch and let them both outside within 30 seconds he bolted to the back where he had dug a secret hole shoved himself under the fence and went on a nice run. He is VERY well trained and is reliable off leash when he is wearing his shock collar. Every once and a while he wants to go pee on trees outside the yard and will Houdini himself out. He finally came back after about 20 minutes in the forest across the street and my boyfriend chasing/calling him.

My suggestion is to start training early and NEVER stop. They are super smart and will think for themselves no matter how devoted you THINK they are to you. Hopefully the GSD trait is in there to counteract some of the stubbornness and will to run. But it does not just go away because they are part GSD. It's there and they can really never be 100% trusted.

Good luck....lets so some photos!
---

To view links or images in signatures your post count must be 10 or greater. You currently have 0 posts.
Gobles Sonar vom Shipwreck, CGC
Dark Sable 100% DDR German Shepherd (4/1/2010)


To view links or images in signatures your post count must be 10 or greater. You currently have 0 posts.
Frosty Onyx Glacier, CGC
Grey/White Siberian Husky (8/29/2005)
My girl Bunny is a GSD/Husky mix and boy was she ever a challenge as a pup. Typical to Huskies, she loves to run and if we unleashed her when she was younger she would literally become a small dot on the horizon because she wouldn't stop. She had crazy energy! Bunny calmed down a lot once she hit 3 yrs of age and we can let her off leash without any problems now. I will never get another dog that's mixed with Husky because the energy was just too much. She's fabulous now though and is taking her therapy dog test on Saturday. I think huskies require very active and devoted owners.
Here's Bunny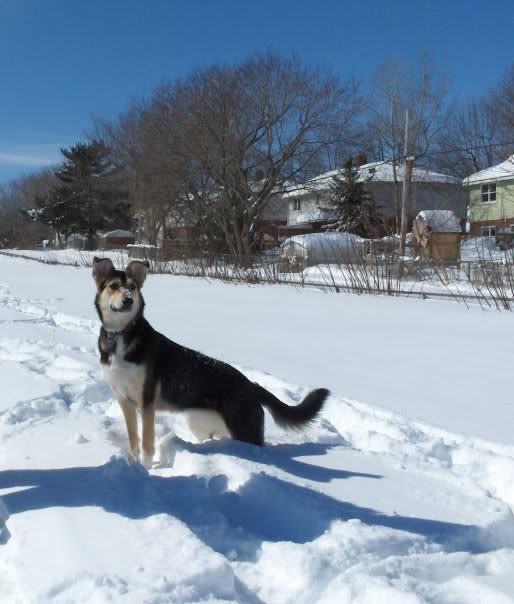 ---
Jazz, Shiloh Shepherd, 5 yrs old, CGC HIC
Bunny, GSD X, 7.5 years old
My last Boy was Husky/GSD he loved to run, run and run. Other than that id say mostly had a GS mentality.
---
Tim

Katie DOB-12.3.2010
Member
Join Date: Mar 2010
Posts: 155
Keek is our white shepherd siberian husky mix. She is two and a half years old now and has become one heckova fine dog, but when she was younger we had to run her anywhere from 2 to 4 miles before doing agility! We also had to run her before tracking.....and also run her before obedience. Good grief. Super smart, super funny, and super clever; knows the name of her toys, even when I do not.....hey, Keek, go get that green football-looking thingy. Haha! I could not believe my eyes when she brought me that 'thingy' from another room where the toy storage is.
Hoping this is a good enough close-up enough so you can see her ice-blue eye....she's hooked up to our trike in this photo (which btw, I used to have to exercise her on the treadmill before biking her!)....
We're thinking she is about a quarter siberian, but not precisely sure on the amount....the rest is all white shepherd.
We are madly in love with Keek (her name means White Hair in Eskimo).
Paige was a GSD Husky mix and you have all described her to a tee. She was a total escape artist and completely untrustworthy off leash...and she NEVER stopped pulling on the lead. We rescued her and probably should have done more training with her. She was the MOST stubborn dog and so smart! We LOVED her dearly. She talked to us all the time (that was the husky) and she was quite funny. We didn't figure out what her mix was until later in her life (we'd been told it was a collie cross.)
---
Scarlett WGSD 2/07 CGC TDI(retired)
Paige Husky/GSD mix 2/95-12/08

If you are going through hades, keep going!
Banned
Join Date: Jan 2009
Posts: 3,614
Thanks for the replies
Sure has me thinking, but I didn't make the decision lightly -- I mean I knew the Husky influence would be there in some way, shape or form... just haven't seen it in the month+ I've had the new guy. I'm sure it will come out and I'll be waiting...
Here he is...
Banned
Join Date: Jan 2009
Posts: 3,614
For those of you talking about being untrustworthy off leash, was that from the get-go? I brought him home around 10 weeks (and he's 14.5 weeks old now) and he's been my shadow ever since. I have a large but unfenced yard and he very diligently patrols the yard, but rarely farther than where he can keep eyes on me. I've had him offleash since literally the day he came home. I make him drag a leash in the house to get used to it, and we are learning to walk on leash, but here, he is never on one and never had a single issue.... yet.... is the worst waiting to happen?