Anyone have photos of fit/muscular GSDs?
---
I am looking for photos of German Shepherds who are very fit/muscular. Does anyone have a photos of dogs that are in great shape or know where I can find some photos?
I am trying to show what it looks like when a GSD is in very good body condition (lean/muscular) versus "regular" or "average" (less muscular) shape. I am not sure how much of the muscle tone is usually visible in photos with a GSD type of coat?
---

To view links or images in signatures your post count must be 10 or greater. You currently have 0 posts.

Jubal/Tesla (Beauceron) 3/14/14
Bianca HIC CGC TT (GSD) 4/24/04-10/23/12
Stark is only 1 year old so there isn't a whole lot of muscle, but I would consider him very fit for his age. No body fat that's foresure.
These few are a series and you can kinda "see" the muscle/toned areas as he goes for the ball..
These are just a few standing/stack photo's that I have caught him in from the past few weeks.
One of him working (tracking).
This is a stacked photo of Stark at 10ish months old, I think he looks pretty fit for a 10 month old.
Not sure of this is what you were looking for. I have more "athletic" photo's (jumping, running, etc..) if that's what you would like too.
---
G Wild Winds Zephyr of Cognac BH, HIC, NTD, ITD, CGN
Wild Winds Archangel Raphael HIC, TT
*Coming soon* "__" z Weberhaus
Akbar is very fit, 80+lbs of lean machine
Here you can really see his thigh muscles
---
Akbar 6 years
Isa 10 years
Crowned Member
Join Date: Sep 2006
Location: Minnesota
Posts: 4,832
Here's a good pic of my muscular boy.
---
Elaine and the herd
Sage is almost 11 months so not very muscular yet but you have permission to use anything from my Flickr album, just click on his name in my sig
---
-Brandi


To view links or images in signatures your post count must be 10 or greater. You currently have 0 posts.
6-5-09

To view links or images in signatures your post count must be 10 or greater. You currently have 0 posts.

Banned
Join Date: Jul 2009
Location: Jeff. County, NY
Posts: 9,001
Zenzy is heavy boned (look at her legs) and muscular as well as pretty darn powerfull and really really fast. There is almost no dog that I know off (not even Yukon) that is faster than her.
Yukon is 79lbs of muscles. He is very different from Zenzy, even though they have the same daddy, he is not as heavy boned as Zenzy is. Yet very fit and powerful too.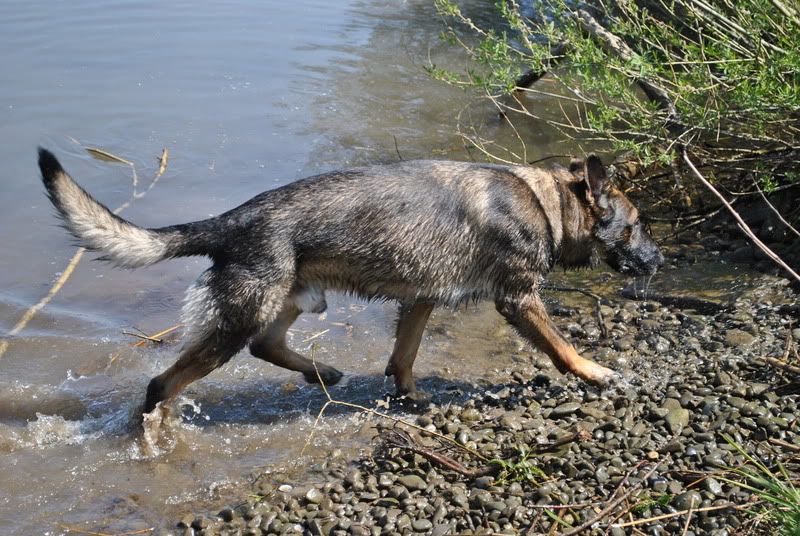 Both
The most powerful dog EVER (Yukon) Who said that working dogs can't be couch potatoes?
---
Last edited by Mrs.K; 04-28-2010 at

03:27 AM

.
Freya has a very wide rib cage, and that makes her look "heavier" from a distance, but she has a nice tuck and is very lean.
Rayden is very plushy, but you can still see a nice tuck!
ETA: I re-read your post lol The pic of Freya by herself, you can see quite a bit of defined muscle in her shoulders and haunches. Rayden, you can see his body shape, but definitely no muscle definition visible under all that hair!
---
Last edited by Dainerra; 04-28-2010 at

07:46 AM

.
Here's some of Masi,,she is a lean, solid machine, always on the go, weighs in at 70lbs
)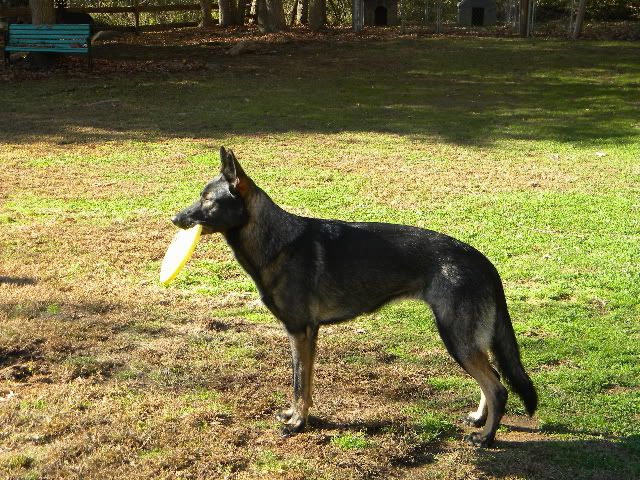 ---
Diane
Ozzie vom Kleinen Hain
Danger Danger vom Kleinen Hain aka Masi
Tranquillo's Kizzy
Jakoda's Kholee
"Angel" Jakoda's Bewitchen Sami CD OA OAJ OAC NGC OJC RS-O GS-N JS-O TT HIC CGC
"Angel" Steinwald's Four x Four CGC HIC TT
"Angel" Harmonyhill's Hy Jynx NA NAJ NAC NJC RS-N JS-N HIC
"Angel" Jakoda's Jagged Edge
---
Last edited by JakodaCD OA; 04-28-2010 at

08:03 AM

. Reason: misspelled word corrected
Gideon v
Wildhaus@13
months: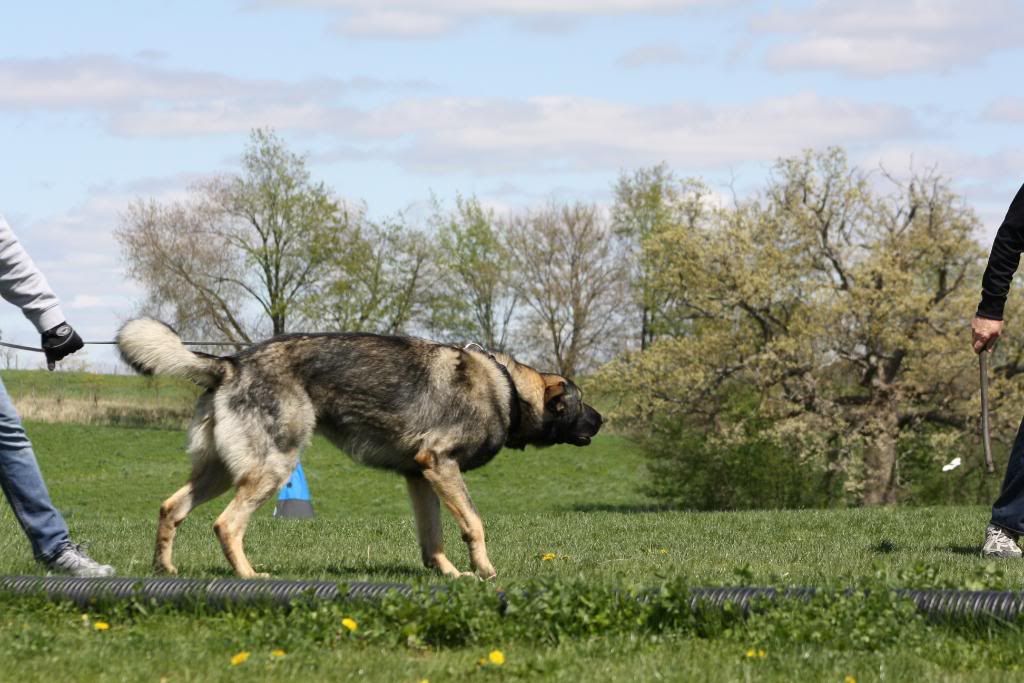 Karlo has some wide shoulders and at his age is very strong~he pulled me down for the first time last weekend, then took the helper down!
---
Jane~
Kept by
To view links or images in signatures your post count must be 10 or greater. You currently have 0 posts.


To view links or images in signatures your post count must be 10 or greater. You currently have 0 posts.
and
To view links or images in signatures your post count must be 10 or greater. You currently have 0 posts.

Kacie
To view links or images in signatures your post count must be 10 or greater. You currently have 0 posts.
7.21.05-5.01.15
My boy has a straight back, I think he looks muscular at least to me he does
1 year old
27' 1/2
80 pounds
---
Lauren

Sinister ~ black male GSD 3.11.09
Draven ~ male Dalmatian 6.30.13