funnny pics
---
I got a kick out of these and thought I would share them.
Typical but Icon has his own recliner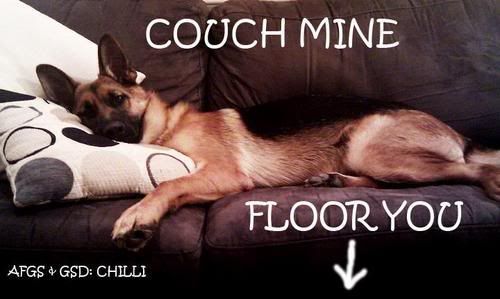 Never under estimate the cat
Wishful thinking
love it!
---
~Jennifer~

My Zoo
Jake-(GSD/Chow)born 1997
Zoey-(long haired chihuahua) born 2009
Rocky-( GSD) born 2-2011
Spook- resident cat with an attitude
Speedy-other resident cat clown
Thanks for the chuckle this morning.
---
karen, mom to:
ace-gsd (bi-color) 6/14/2010
mandy-yellow lab 1/31/2009
dixie-shep/lab 2/21/2013

baby-terrier mix (waiting at the bridge)
I have some funny pics, though they're not dog related!
---
Viking vom Zeder-Kamme (11/19/2011)
New Member
Join Date: Feb 2012
Posts: 2
can anyone say cheez- it? looks like we should buy him a helmet and have him tested....mmmmmm cheese
---
Lauren, proud owner of:
Alexandria ("Alex") - GSD (June 9, 2010)
Dixie - Russian Blue Cross (June 1, 2009)
Isabel - Chihuahua (March 14, 2009)
Mar - Tabby (Summer 1998 - January 2012)