BOWLING GREEN, OH:"Gloria" Sad Senior Girl
---
"Gloria" is a senior 10+ yr old GSD girl at the Wood County Dog Shelter in Bowling Green, OH.

She was left in the overnight drop-off room and looks so bewildered, like she has no idea what happened to her or why she ended up where she's at. She is a nice girl and seems to do fine around the other dogs, but really isn't interested in jumping around or playing very much, at least right now as she has only been there a few days and is probably still trying to make sense out of her situation.

There is no pull fee for 501c3 rescues and some transport help is available from the volunteers to get her to a rescue. She is also available for adoption. The adoption fee is only $75 and includes a $50 voucher to be used toward vetting or spay (we're not sure at this point whether or not she is spayed). If you'd like to know more about Gloria or give her a new home or rescue, please contact the Wood County Dog Shelter at the number or e-mail address given below.

Bowling Green, OH is about 20 miles south of Toledo, and the shelter is very easy access right off of I-75.
GLORIA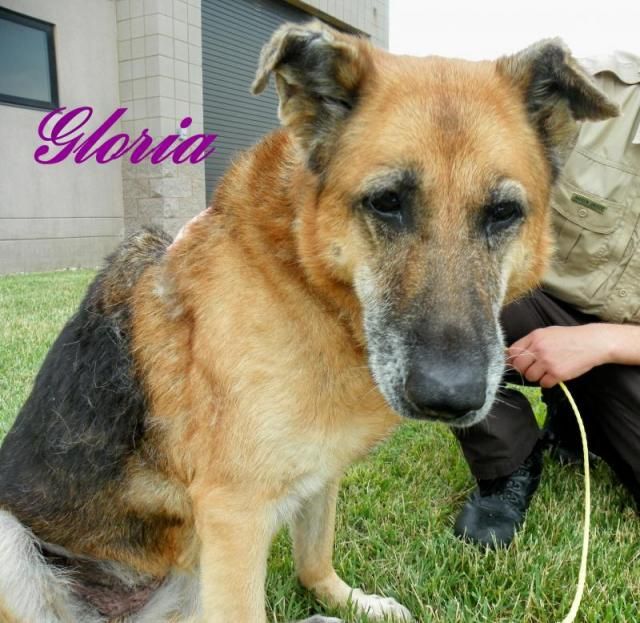 https://www.petfinder.com/petdetail/29598453/
Wood County Dog Shelter
1912 East Gypsy Lane Road
Bowling Green, OH 43402
419-354-9242
wcdogshelter@co.wood.oh.us
---
Pat

Kaiser - 8 yrs old

Ray (Radar) - 8 yrs old - At the Bridge
I can't imagine how confused dogs feel when they are brought to shelters, much less a senior dog. It is just so very heartbreaking
---
Misty- Samoyed Mix, Tannor- Golden Retriever CGC
Robyn- GSD CGC, TC, Midnite-GSD CGC,TC, Brennan-Golden Retriever CGC, Batman-Husky/Greyhound , Apollo-GSD
Thats a shame. I hope she finds a good home
---
__________

Tom
__________

Penny - 9/7/12 (GSD)

Abbi -5/9/09-12/7/12 (GSD)
Gloria was rescued from the shelter. However, once she was out of the shelter setting, she was found to be very, very dog aggressive and unpredictable. It was a difficult decision, but considering this, along with her general health, the decision was made to have her humanely euthanized. Her rescuer will be with her as she crosses the bridge.

We tried, Gloria. Shame on the family who dumped you at the shelter and walked away.
---
Pat

Kaiser - 8 yrs old

Ray (Radar) - 8 yrs old - At the Bridge
Poor girl
---
Carolyn
Lakota - WGSD 1/13/10
Wolfen - WGSD 12/31/14
Bull -WGSD 2-10-10
💔
Apache - Shiloh Shepherd 12/15/02 - 6/9/15
Kiya - Shiloh Shepherd 5/15/04 -12/19/25
Run free across the bridge, Gloria.
---
Hondo Von Dopplet L Bauernhof "Hondo"- GSD
Lilie's Tug McGraw "Tug" - Golden Retriever
Maggie - Mini Dachshund (Rescue)
Lonestar Pivo - Texas Blue Lacy
Ashe - Barn Cat
Katie / APHA
RIP Gloria
Poor girl, at least the rescue will do what her family couldn't
---
Shanna

My Pack:

Jasmine - Female Miniature Poodle - born Aug 15, 2010
Loker Delgado Von Stalworth - Male GSD - born Jan 26, 2012
Koda & Zazu - 7 year old male cats
Alex - Male Cocker Spaniel (rescue) - RIP Cuddlebug 2007-2010
To view links or images in signatures your post count must be 10 or greater. You currently have 0 posts.

So sad. At least she will be w/ someone as she crosses the bridge. Run free and happy Gloria.
---
Daisy 11/26/99-7/25/12
Miss Chevy Cruz - 1/25/2013-1/29/15
Thunder -1/25/13 -7/25/15
Lucky-GSD -Rescue -2/16/03 - 03-21-16
Charlie- GSD-Rescue - 7-4-12
Member
Join Date: May 2014
Location: East Coast, USA
Posts: 60
I'm sorry, Gloria. My boy Gollum is over the bridge, may he find you, so you both may take some well deserved rest and then later, play, while you wait for those who love you both.
RIP sweet Gloria.
---

To view links or images in signatures your post count must be 10 or greater. You currently have 0 posts.
At the Bridge, running free..

Brando GSD 2/14/94 -6/17/03 RIP
Julietta GSD 4/4/03 -11/23/13 RIP

Rest in peace my babies.