SANDUSKY, OH: "Ellie" - 9 yr "old" Girl!! (adopted)
---
I came across "Ellie" on Petfinder. She is in the Erie County Dog Pound in Sandusky, OH.
Her Petfinder post says she's 9 years old, but on her photo she looks great and younger than 9! She's housebroken and crate trained. She does great on a leash and can sit, shake and lie down on command. Ellie is available for adoption now!
There is no further information given about Ellie. If you're interested in giving her a home for the holidays and beyond, please contact the shelter at the number given below. Apparently they do not have an e-mail address.
Sandusky, OH is about half way between Toledo and Cleveland, just off I-80/90 (Ohio turnpike).
ELLIE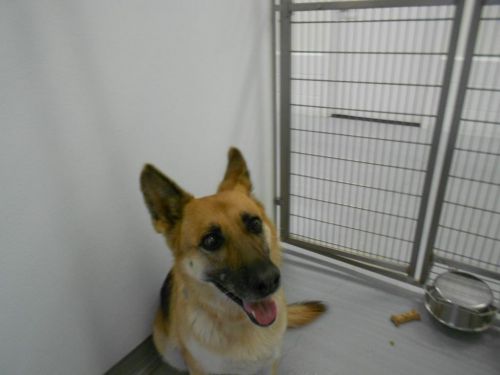 http://www.petfinder.com/petdetail/24916701
Erie County Dog Shelter
2900 Columbus Ave.
Sandusky, OH 44870
1-419-627-7607
---
Pat

Kaiser - 8 yrs old

Ray (Radar) - 8 yrs old - At the Bridge
Ellie's Petfinder link now says ADOPTED!!!
---
Pat

Kaiser - 8 yrs old

Ray (Radar) - 8 yrs old - At the Bridge