TIFFIN, OH: "Lynn" Adult B&T Female (adopted)
---
Lynn was e-mailed to me to crosspost. She is currently at the Seneca County Dog Warden in Tiffin, OH.
Lynn's Petfinder bio says she was found as a stray and was very scared when she was first brought in, but warms up to people quickly. She is very quiet, likes to be outside and likes attention.
If you'd like to know more about Lynn, please contact the Seneca County Dog Warden at the number or e-mail address given below.
Tiffin is in northwest OH, about 45 miles southeast of Toledo.
LYNN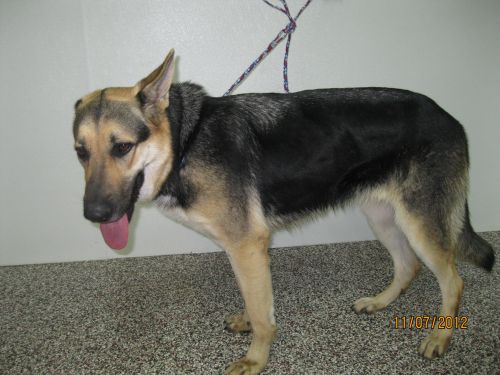 Petfinder Adoptable Dog | German Shepherd Dog | Tiffin, OH | Lynn
Seneca County Dog Warden
3190 State Route 100
Tiffin, OH 44883
419-448-5097
scadw@bright.net
---
Pat

Kaiser - 8 yrs old

Ray (Radar) - 8 yrs old - At the Bridge
According to Petfinder, Lynn has been adopted!!
---
Pat

Kaiser - 8 yrs old

Ray (Radar) - 8 yrs old - At the Bridge