New Member
Join Date: Nov 2012
Posts: 9
Well im used to the potty training stuff. It seems like i've been potty training for years now betweeen all the kids. lol. I see where the concern would be. It does seem like an excessive bathroom time. This would be my first dog really. I am going to do a lot of research before the final choice. I can already see it will be a lot of work if i settle on the decision to get a german shepherd pup.
And depending on where you are, there may be rescues that would approve you (and maybe not due to all the kids and liability - understandable) to foster and you could do some trial runs, help some dogs and see what you like and don't like about them.
They are smart, they need a lot of attention and they do shed a ton. For a family, the great ones can be a wonderful dog. The dogs with less than great temperament, not so much.
Foster's fur before his bath at the groomer!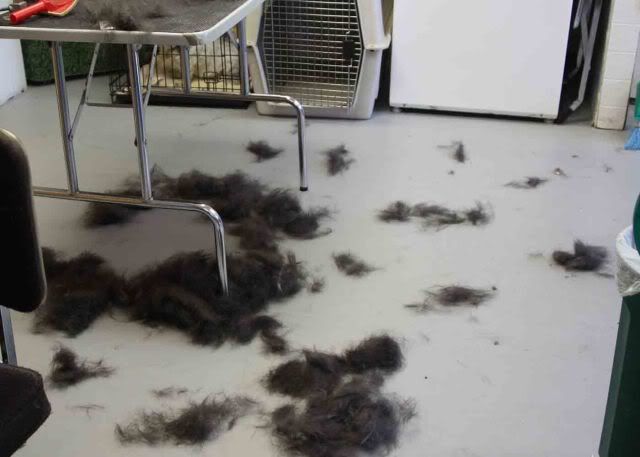 ---
To view links or images in signatures your post count must be 10 or greater. You currently have 0 posts.
To view links or images in signatures your post count must be 10 or greater. You currently have 0 posts.
To view links or images in signatures your post count must be 10 or greater. You currently have 0 posts.
New Member
Join Date: Nov 2012
Posts: 9
O my goodness thats a lot of fur, lol. That is a good idea on the foster thing. I could always look into tht too.
Just hit 6 months and BOOM! Dust-German-Shepherd-bunnies all over! This is with daily brushing and sweeping (all hardwood floors -no carpet)! Although, I knew this prior to getting him. More work? No doubt. Worth it? You bet!
Quote:
My kids are 8,7,4,2,1. So neither one of urs shed? Thats great to hear. We'll I walk a lot so I figure that would be fun to take her with me. I walk at least 2 miles at least 4-5 days a week. Do they learn easy? Or are they gonna take as much attention as a kid? lol. The shedding thing is really what had me really put off. I am very anal about clean. I really did fall in love with the pics of the puppy. Are shepherds usually healthy dogs? I am just so excited about this for the kids. Thanks so much for the help.
Hi there. Mother of 5 and now Grandmother of 1 here. My advice, which you won't want to hear because puppy fever is a virulent virus, is wait.
A GSD can be a wonderful addition or a nightmare and that isn't 100% dependent upon the dog, a great deal of it has to do with timing. Wait. I did. I am very glad I did! When I think about Huxley's first few months here and what that would have been like with several toddlers?
If you absolutely cannot wait, read
everything
you can about bite inhibition training and be prepared for the land shark stage. Be aware that they do shed like crazy and get a good vacuum or wool dry mop to deal with it. Find a good trainer who encourages family participation in classes
Dog Trainer Search
And socialize, socialize, socialize with children in a carefully supervised setting.
I did have dogs before Huxley (and Abby the wonder Labby) I had shelties when my kids were small. Same coat/shedding issues as a GSD but the size and breed temperament was better suited to our household at that time. I am not a person who thinks one cannot raise dogs and children together. But I do recommend people thoroughly understand the commitment it requires AND that some breeds are more suitable than others for a first dog.
Anyway... 'nuff said. Good luck with your decision
New Member
Join Date: Nov 2012
Posts: 9
Thank you for tht input.
I do appreciate it.
Banned
Join Date: Mar 2006
Location: Beautiful Pacific NW
Posts: 11,005
Quote:
You know Kelina. You are really selling me on the dog, lol. I really do love the breed. Its such a hard call. I instantly fell in love with the puppy. I just hope if i get her tht she wont shed that bad and if brushing will help with it
non-stop shedding.
Short or long haired, it matters not. If shedding and biting the kids is a problem, pass on the puppy.
I fed raw, no grain in their diet AT ALL - nothing but all natural products and groom regularly... and yet... my dogs shed A LOT!

Zefra is worst than Stark and has a tight, short coat.
---
G Wild Winds Zephyr of Cognac BH, HIC, NTD, ITD, CGN
Wild Winds Archangel Raphael HIC, TT
*Coming soon* "__" z Weberhaus
I've also heard that coated shepherds shed less, or at least that the undercoat, while shedding catches in the longer outer coat and needs to be brushed out but doesn't fall all over the house like it would with a short coat. I'm waiting to see with Piper, her adult coat is definitely almost finished coming in. It's so wavy along her back, it's hilarious.
I would suggest waiting, because of the small children. Piper, and I know it's common, bit EVERYTHING for a while, and she's still quite mouthy. It has gotten better with a LOT of work. At 5 months, she has pulled me over while trying to chase a stray cat and she has also knocked down my 7 year old brother while playing with him.
And she chases pretty much anything that moves. And when she's on a leash attached to a regular flat collar, and she lunges, I'm hard pressed to stay standing. Makes me wish I'd gotten her at 8 weeks rather than 13 so I could've started training her sooner. She will learn how to walk nicely on a leash eventually, though.
So again, my suggestion is to wait until the children are older. If you absolutely cannot wait, and absolutely must have a GSD, might I suggest looking for a well bred, low drive puppy.
Sent from my iPhone using
Petguide.com Free App
---
Piper 5/28/12 - Black and Tan Coated GSD
Rory 1.5 years - Tabby Domestic Short Hair
Crowley - Pueblan Milk Snake
Mine does not shed that bad and she wasn't a biter when she was little. I had her in school immediately and was able to spend a lot of time with her. I don't have kids in the house full time, but my nieces and nephew are over quite often and she is great with them. About a month ago I brought the dog to their house and the kids played with the dog in the yard for hours...I am still not sure who tired who out. I even told my sister that day that a GSD would be make a great family dog for them. Every time I see mine with the kids I smile.
---
Misty- Samoyed Mix, Tannor- Golden Retriever CGC
Robyn- GSD CGC, TC, Midnite-GSD CGC,TC, Brennan-Golden Retriever CGC, Batman-Husky/Greyhound , Apollo-GSD