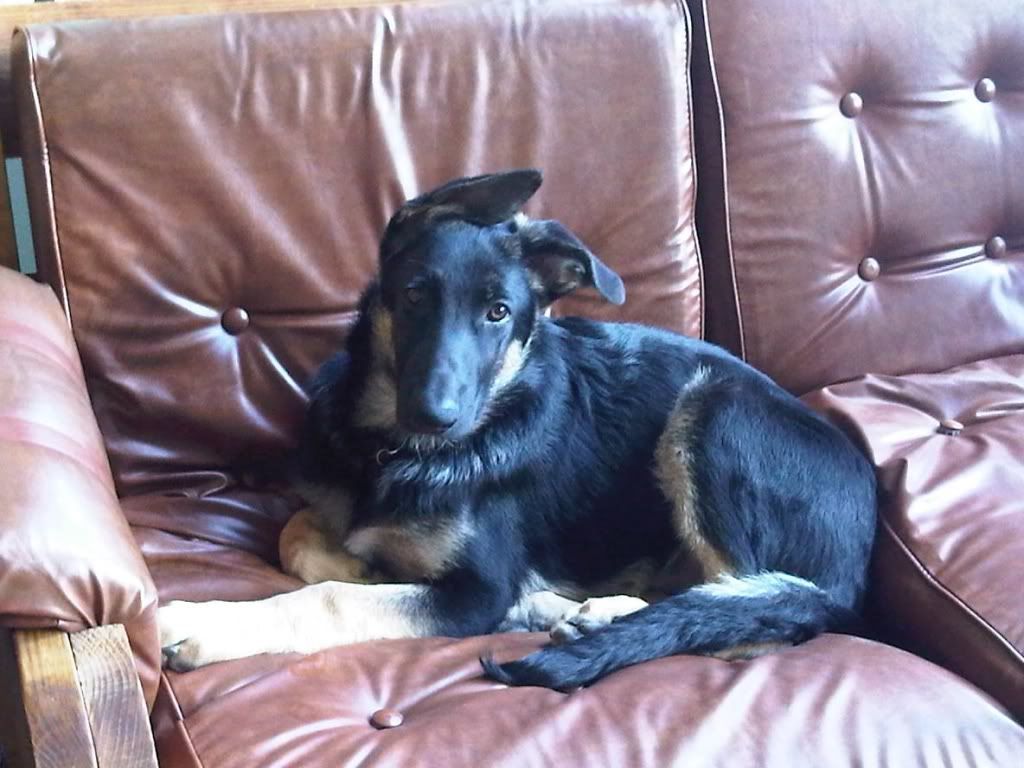 The best thing about funny ear stages are the comments from people who don't understand the process of GSD's ears lol Such as "are they going to fix themselves?!" lol
Banned
Join Date: Feb 2011
Posts: 144
Great pictorial...especially for the newbies not knowing what to expect! And for those that their pups ears were up when they got it, they can see all the fun stages they missed!
Oh I just love love the names you gave the ear stages! Here are some of Zooies. I missed getting a pic of the teepee ears though.
Quote:
my pups ears were up when i got him, then one went down for about a week, now 1 ear is completely up and the other just has a small "limp" tip that doesn't bug me.. but is the glueing really necessary? my pup is 10 weeks old now
I wouldnt start worrying about your pups ears untill he is four five or even six months old after they are done teething they tend to stand up even if they are a little limp bc the mouth is pulling all the calcium.
And the all black GSD above this post is beautiful!
Our GSD is solid black, his ears were both down at 7 weeks when we got him, looked more like a bear cub at first, but gradually one ear went straight up, with the other working more as a antena, not until he was 12 weeks did it pop up like the other. I'm sure it's just a matter of time before they both stick up...
Senior Member
Join Date: Feb 2010
Location: not here anymore!
Posts: 367
aww I love these pics, I hope my girl is preggo so i can have pups again!!
---
I used to be a member on this forum. But decided to delete my account due to two individuals attacking me needlessly
wanna see why go here
To view links or images in signatures your post count must be 10 or greater. You currently have 0 posts.

I got Bianca as an adult but her previous owner sent a bunch of her puppy photos...she has some pretty funny ears in some of them!
I was surprised about this one, according to the date she is 1 year old here!
One ear up, one down at 1 year old? Yet now her ears are perfectly straight. Maybe it's not really down and she's just holding it that way on purpose? I don't know.
This one looks more like a "terrier ear" stage to me-- perky, but folded like a Fox Terrier:
She apparently also went through the 'flying nun' stage which I have to say is my least favorite ear look:
---

To view links or images in signatures your post count must be 10 or greater. You currently have 0 posts.

Jubal/Tesla (Beauceron) 3/14/14
Bianca HIC CGC TT (GSD) 4/24/04-10/23/12
Mackenzie's ears stand straight up but sometimes, mostly when she is tired after we run or play, she gets the flying nun look. Also she has the most adorable happy ears!! Everytime I come home from work or school
SHe has a really feminine and slender face so she looks absolutely adorable with those ears pinned back
New Member
Join Date: May 2011
Posts: 3
Twins!
---
Quote: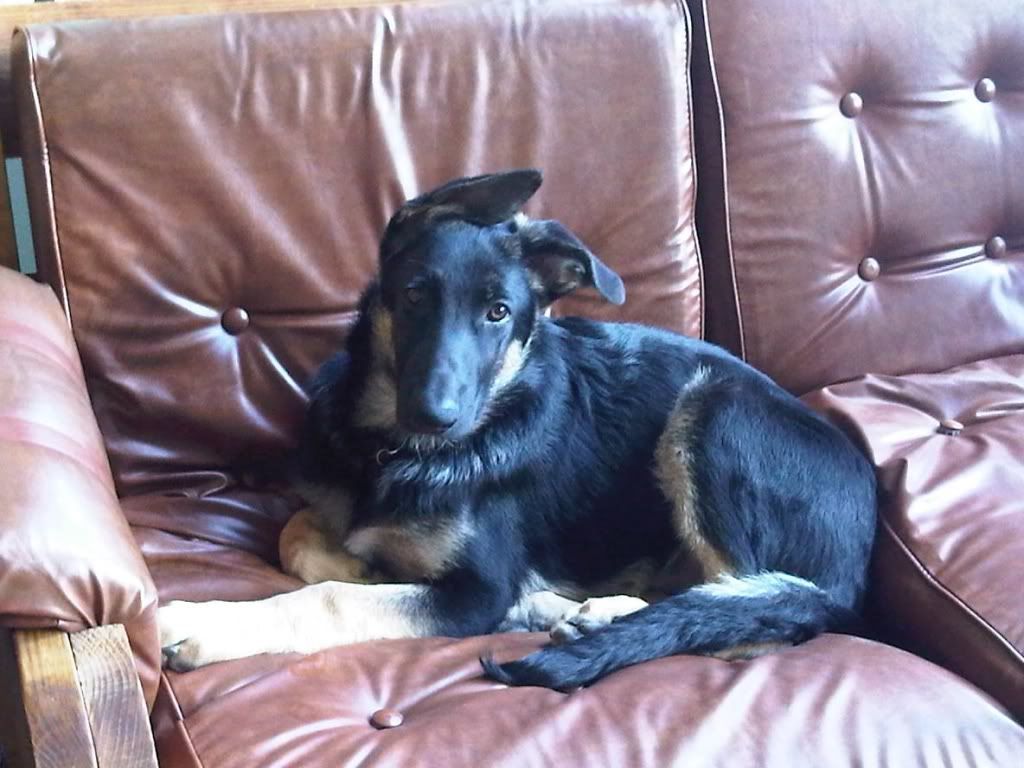 The best thing about funny ear stages are the comments from people who don't understand the process of GSD's ears lol Such as "are they going to fix themselves?!" lol
Oh my this puppy and mine look like identical twins! At first I thought this was a pic of my dog!
New Member
Join Date: May 2011
Posts: 17
Hello my GSD puppy is 4 months old and it has an almost erectile left ear and the right one is on its way. Is it being late or I shouldn't worry? I'm giving him good amounts of calcium and trying to to mess with the area around his ears at all to not screw anything.