What exactly are bully sticks?
---
"If there are no dogs in Heaven, then when I die I want to go where they went." -Will Rogers
My pup will be 10 weeks old on Monday and his ears show no sign of even thinking about going up...and yes its driving me crazy...my last GSD had his ears up by 8 weeks...patience..patience..patience
---
Jackson~~2/18/2008 - 1/28/2010
forever in my heart

I posted in the picture forum, but Godric is 13 weeks, and his ears went up yesterday. They're still a bit floppy, but it seems like the more he runs, the better they stand? Ha, so weird, but it's true. When he wakes up or lays and plays around the house, they start to go limp. The right one really falls. When we run around the backyard for a while, they both stand up great for hours after! Is running around exercising those head/ear muscles? Maybe he's trying harder to hold them up? I don't know, but running really seems to make a difference for whatever reason.
---
"If there are no dogs in Heaven, then when I die I want to go where they went." -Will Rogers
I had no idea that sometime their ears stay down when they are a puppy. I guess I always thought they were always up. What age would they be up by like 13 weeks if they were to go up and stay up?
---
R.I.P- Smokey my GSD/Husky. You are my hero, my heart, my soul and you will forever remain in my heart. You were a true companion. I love You and miss You so much. Run like the wind!!

Chief-GSD
Shasta's ears have been up since she was 14 weeks. We literally watched in one day as her right ear decided to stand up. She has the tip of one ear that will never stand do to damage from a litter mate biting too hard but its very cute and unique. I'm waiting for the goofy floppy earred thing to start with the whole teething thing. She's currently 18 weeks old. I'll be happy when she doesnt feel the need to chew on and shred everything. my other dogs, i got after they were done teething and their ears were up permanently.
My Shasta's right ear was up at 13 weeks and her left ear took another week or 10 days. But some dogs ears take much longer, even until 5 or 6 months.
---
Paula
Shasta - GSD (4/30/10)
Thor - GSD (3/12/12)
RIP Duchess - Shetland Sheepdog (12/25/88 - 2/14/04)

Athena's are halfway there at 9 weeks which out of the litter of 11 I think only one pup has both ears up already.
---
Athena - German Shepherd
Duke - Boxer
New Member
Join Date: Sep 2010
Location: Newport , Michigan
Posts: 3
Ear infection vs. ears standing
---
Hello everyone new to the forums
please ! I have a new pup that I purchased from a breeder here locally . He comes form decent bloodlines and is of German show/working lines on his sires side and german american show lines on his dams. We have aways owned GSD'S . This particular pup was purchased for my 11 year old son to begin showing next year in Junior handling ( conformation/obedience ) . ....To get the point....This baby has had an ear infection going on since he was 6 weeks old ( the breeder ( co -owner of the litter) insisted his ears were dirty. And used their kennel concoction as a cleaner, however I know an ear infection! They would not allow me to remove the pup until he was 8 weeks old. First stop vets! Sure enough ...INFECTION !! With this going on for 2 weeks is there any chance of it interfering with his ears standing? He is now on antibiotics and drops, the heat in the ear is gone ,and the mucus. He is no longer tilting his head or scratching...poor baby! My son would be devastated if this pup can't be shown.
Hondo's ears didn't stand all the time till he was nine months old. And even then one would relax every now and then. Now that he is a year old, they stand when they should. But he shows his emotions through his ears. When he wants loving he'll come up and put his head on my lap and his ears will be laid back. When I talk to him, they'll pick up. Sometimes his ears look as though they are pointing east and west instead of north.
Eight weeks old with both ears up.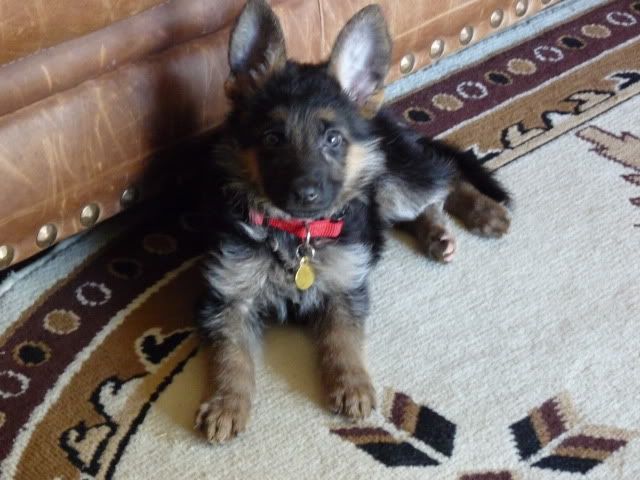 With one ear up at 9 weeks old.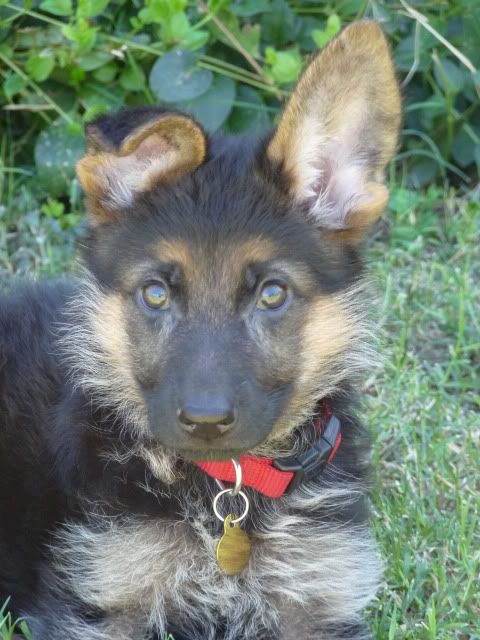 Back down with both ears around 11 weeks old.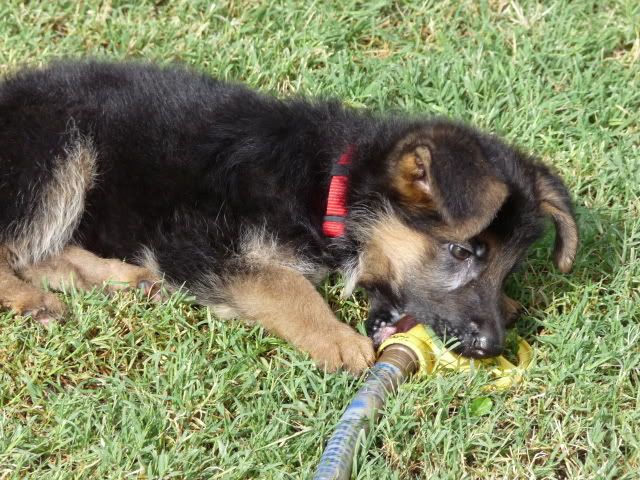 Can't find any pictures when both ears stood up around 12-13 weeks old and they stayed up after that.
She was 5 months old here and her ears still are both up.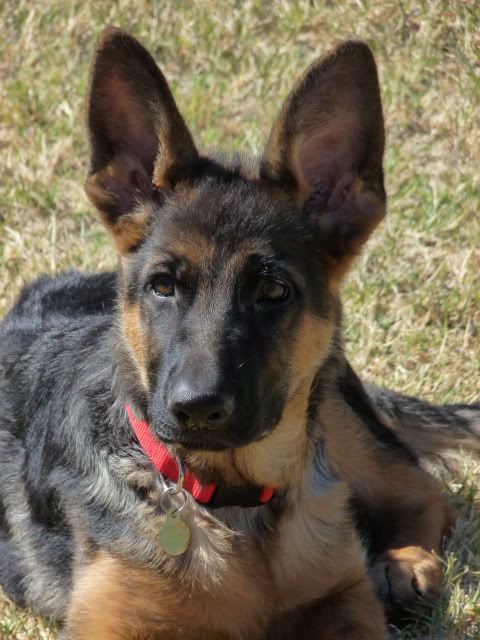 6 months old here.