How long before positive effects of diet show in coat?
---
Kira's been in Fromm gold for about 4-5 months. Her coat looks very nice. Rich in color, and shiny.
About 3 weeks ago, I started topping her kibble with fresh pet vital food.
The one that she loves, contains a high amount of whitefish.
If I mix by hand, my hands are coated with a large amount of oil.
Anyway, since adding this food, Kira's coat has gotten amazingly shiny.
Could her coat be showing the effects of the fish oil so soon?
I was under the impression that it took months, and a changing of her seasonal coat to see any changes.
Sent from my iPhone using
Petguide.com Free App
Banned
Join Date: Mar 2006
Location: Beautiful Pacific NW
Posts: 11,005
In my experience, a neglected dog usually takes up to 3mos. to show a change-over in the coat.
Like this dog-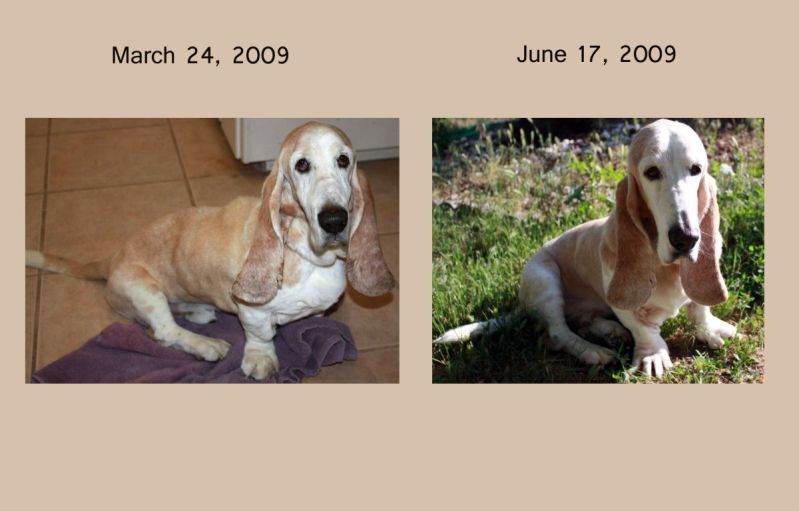 Awe. Cute pooch.
So what you're saying is that the current coat doesn't necessarily improve?
Only the new fur that grows ?
Sent from my iPhone using
Petguide.com Free App
Banned
Join Date: Mar 2006
Location: Beautiful Pacific NW
Posts: 11,005
No I think in her case, the existent coat improves due to the oils. If you brush a few times a week it distributes the oils.
In neglected dogs, all the old icky fur has to grow out and probably the skin has to renew itself as well, as oils now in the coat where there were not before.
My example wasn't best, but that's my experience in neglected dogs (3mos. to change over), Kira's got a lot better life than most we see
Edited to add - now, in 3 mos. when her fur changes all out, you may see a difference, but I'm guessing her coat is as good as it'll get now, it's just got more oils which may make it seem richer/darker.
My Libby's coat got darker as she got older.
Longer hair would probably involve longer time. Scarlett looked OK when she came to us. In six months, she had a really beautiful coat. At an event, people commented on how beautiful her coat looked. Many people asked what we fed her.

She basically did a full shed and then we could see it. She is a LC, so that took longer, IMHO.

Patience and consistency helps.
---
Scarlett WGSD 2/07 CGC TDI(retired)
Paige Husky/GSD mix 2/95-12/08

If you are going through hades, keep going!
I think msvette's example shows a case of neglect; in this case, coat recovery can take 3-4 months or even longer. The longer the coat, the longer it takes for it to return to its natural glory.

But for a dog like Kira who is in good health already, 3 weeks is about what it takes to start seeing improvement in coat condition. For me to use a skin and coat supplement, I want to see a deepened sheen, rich pigment, and proper texture within 3-6 weeks.

For GSDs, I like to see a rather hard guard coat, with each individual hair fairly thick. This creates a weatherproof, protective coat that sheds water, dirt, and debris. Some GSDs have a very soft coat; this is the type of coat that sheds like crazy year-round, absorbs a lot of water, and holds dirt and odors. The softer coats look and feel wonderful when freshly groomed, but they don't stay clean as long.

I haven't heard of the supplement you're using, what form is it in? Is it a liquid, powder, or ?
Crowned Member
Join Date: Feb 2011
Location: ontario -
Posts: 12,643
Anthony I don't know where you would be getting that much oil from . Whitefish are actually very low in oil , think cod or haddock type , where the oil is in the liver not the flesh .
Maybe Kira is responding to an increase (good) to a higher quality protein ?
I'm on my phone. I'll post ingredient list from her diet later.
I'm sure there's a reason her coat is glowing as it is.
Sent from my iPhone using
Petguide.com Free App
Looks as if maybe sunflower oil??


Ingredients:
Lamb, Ocean Whitefish, Lamb Liver, Spinach, Cranberries, Blueberries, Carrageenan, Natural Flavors, Sunflower Oil, Inulin, Broccoli, Pomegranate.

Vitamins:
Choline Chloride, Vitamin E Supplement, Vitamin B12 Supplement, Niacin, Calcium Pantothenate, Biotin, Riboflavin, Thiamine Mononitrate, Vitamin D3 Supplement, Pyridoxine Hydrochloride, Folic Acid.

Minerals:
Calcium Sulfate, Dicalcium Phosphate, Potassium Chloride, Iron Proteinate, Zinc Proteinate, Tricalcium Phosphate, Manganese Proteinate, Copper Proteinate, Calcium Iodate, Sodium Selenite.
---
Last edited by Anthony8858; 12-16-2012 at

01:43 AM

.
Crowned Member
Join Date: Feb 2011
Location: ontario -
Posts: 12,643
Anthony sunflower oil -- Check it out . Sunflower oil is high in omega 6 , which is too available , and PRO inflammatory.
Still there should not be so much that your hands are slick with oil? I am not crazy about broccoli being there because of the isothiocyanate compound in broccoli and many cruciferous vegetables being a toxic , liver enzyme inhibiting substance which in small amounts will accumulate damage (over long term) or in larger quantities can be toxic - this as per recommendation by Amercian Vet Med Assoc and the Canadian equivalent CVMA .
If you choose to use this product I would counteract the balance of omega 6 with an oil that is higher in omega 3 -- not coconut oil which is omega 3/ and 6 absent .
A better route would have been to give her whatever food you choose , add your own meat to improve the amino acid / protein profile and add your own oil -- high in omega 3.