Senior Member
Join Date: Nov 2012
Posts: 292
Progress report? Caesar, 14 weeks, 90% Raw diet, ears coming up, weight and progress.
---
Hello Friends,
Thought I would give a progress report on Caesar. Black Working Dog type, not as big as I had hoped, but very smart... Brag brag brag... Smartest dog I have owned at 61... I really feel blessed, he is not a huge dog, but very smart and very good company, being a Director I even take him to work every day. I really do feel Blessed...
14 weeks, 18 kg, 39.7 lbs, ears coming up, Barks a big dog bark, protective, tries to herd cattle, sits, stays for 10 seconds, and fetches nearly 100%..
Gift for You: For any of you that are having trouble with the STAY part, here is a very good training method.. He wants out of his cage, tell him to SIT. When he does, tell him to STAY as you go to open the cage. If he moves, close the cage in his face and start all over. This works very well, and after a days of this, he will sit and stay, and you hold the door open for extended counts 10 sec, 15 sec and so on.. Then when you say OK or a free command, give him a big love up and rub all over.. This carries over to going outside, or coming in, or getting food, make him sit and wait for your command OK!!
Anyways, that is my gift to you, and here is the Pup, my new best Mate: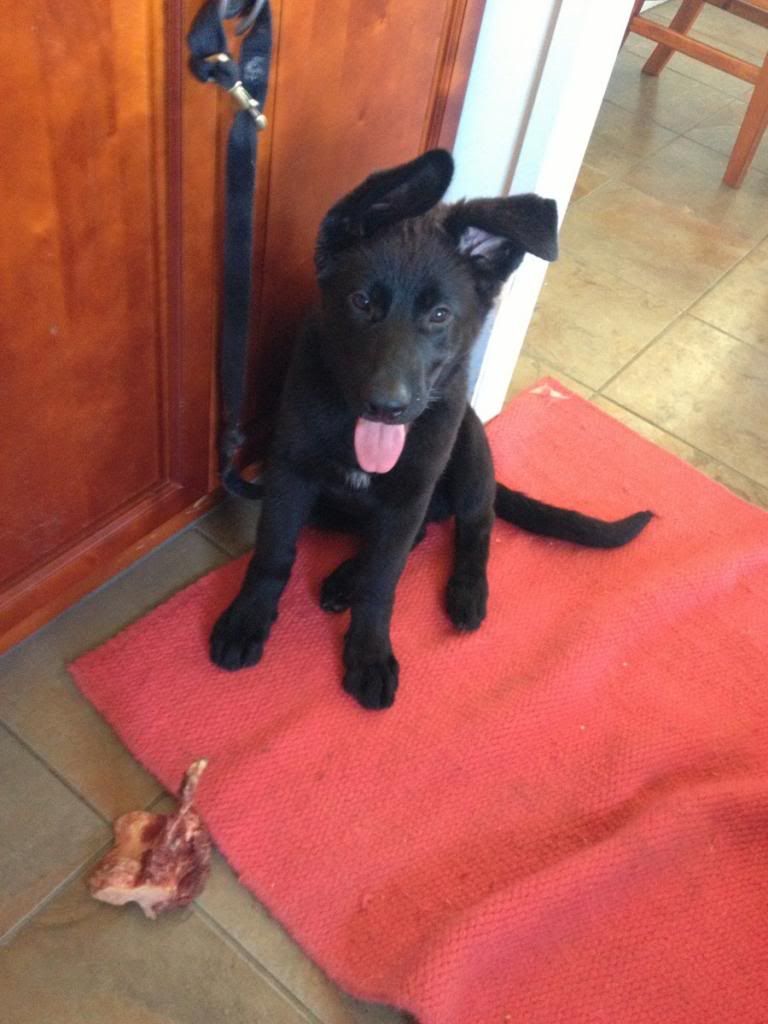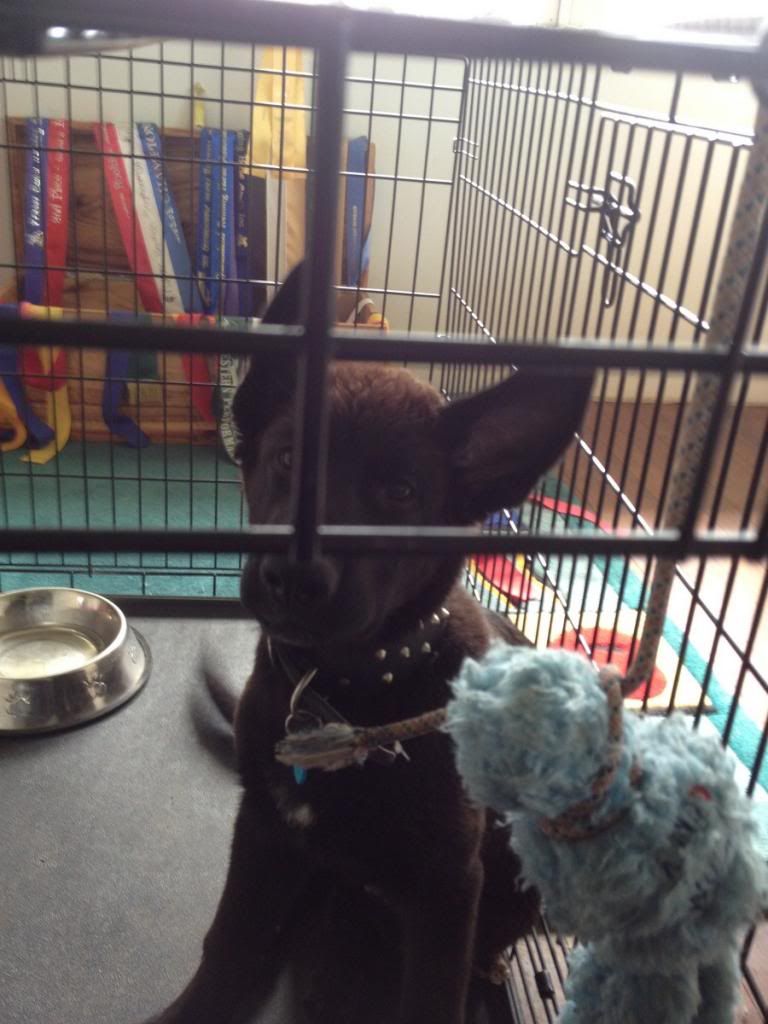 And here is a favorite, the stage when their ears are propped up against each other....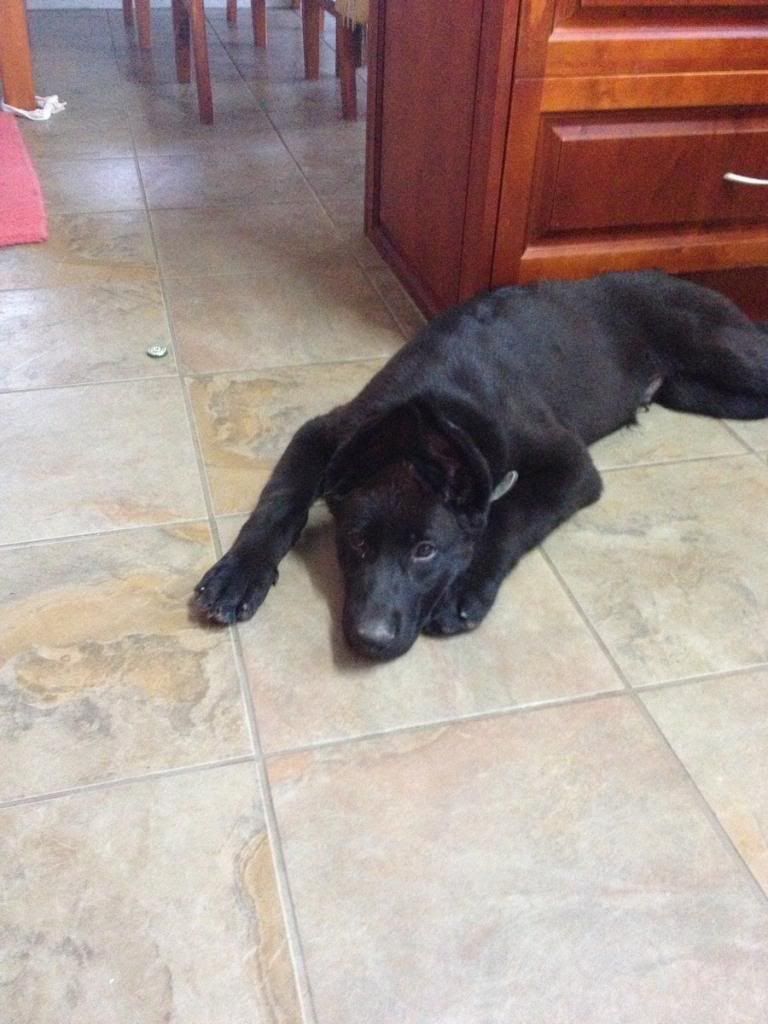 Kind regards from Australia
He is 14 weeks old and almost 40 lbs. He will be a decent sized dog.
Senior Member
Join Date: Nov 2012
Posts: 292
I don't know where I saw it, but someone was saying Vets rule of thumb was 14 weeks weight X 2 plus 10 lbs...
That puts him at sort of 10 -15 lbs over Show Dog sort, but he is bigger boned and a Working Dog. So I guess that is about right Rob? Show Dog male 75-80? And on this figure he would be 90?
It seems to me, that he is bigger and smarter than my two Show Dog black and tan GSDs, but I cannot be sure as it is hard to remember that timing??? That was 7 and 10 years ago...
Thanks for any feedback.. There just is no GSD puppy club here on this little island.. heh he..
He is gorgeous! My black working line boy was 11.2kgs at 14 weeks.
---
Miss Molly Moo (aka The Piranha/The four legged Mouth) GSD 31/10
Raennik Hassan (Cooper) GSD 19/10/11
Paris Tabby Cat 15 years
Texas Tabby Cat 15 years
Senior Member
Join Date: Nov 2012
Posts: 292
Hello Bianca,
I sent a copy of this Post to my Breeder... She says that rule of thumb the Vets put out, does not work with our Working Dog types, completely out the window.. In fact, it is all over the place. The biggest Working Dog type I have personally met is Sarge, a 120 pounder... He is a fantastic Shutzhund training type, so big the female cannot stand to be bred and they do Artificial Insemination..
Anyway, She calls it "Weight for age" in kilos, as in 14 weeks and 14 kg. Caesar is of a smaller bloodline Sire and Sarge was only 14 kg at 14 weeks.. Here is her comments on the so call formulae of 14 weeks x 2 plus 10 pounds.. I am no longer going to be concerned about it, as odd ones fall above and below the line.. She wrote me:
************************************************** ********************
I don't go along with that method of calculation – Sarge was 24kg at 20 weeks & so is Heidi (my female at Bens). There is no way Heidi will end up as heavy as Sarge – and he was weight for age until about 18 weeks – so 14 weeks was approx 14 kg. He is now about 48kg. he was 50kg but I trimmed him down a bit because we have started him back at training and he was a little heavy.
Heidi's parents: Mum 38kg & Dad 40kg. (average female is 30kg) and average show male 38-40kg). I estimate from how she looks that Heidi will be a bigger dog than mum and will finish up about 40kg, which is very big for a bitch. Her brother Gus in Vanuatu is 25kg and Roxy – who at 14 weeks was 14 kg & 16kg at 16 weeks, is only 20kg.
Caesar & Oliver's parents: Rebel 38kg (in lean condition), Dad 45kg at 2 years – not fully mature & very lean (look at the pic I sent you of him running). I think that Caesar is going really well for size if he is 18kg already. Going by those calculations below – Sarge would never have made it to 48kg – so they can't be 100% correct all the time – maybe with show dogs – who tend to grow faster and mature earlier?
************************************************** ****************8
Anyway, I am no longer concerned so much, She does conclude from 20 years of breeding that diet and exercise does play a part, but some develop earlier and some later..
Just enjoy the pup, I say..!
---
Last edited by lone Ranger; 02-11-2013 at

11:08 PM

. Reason: typo
I totally agree, enjoy the pup! I hope you keep updating with pics please
My boy is coming up 16 months and I have kept him at 32 kgs for months. He is very lean as he will be having hip replacement surgery.
---
Miss Molly Moo (aka The Piranha/The four legged Mouth) GSD 31/10
Raennik Hassan (Cooper) GSD 19/10/11
Paris Tabby Cat 15 years
Texas Tabby Cat 15 years
Senior Member
Join Date: Nov 2012
Posts: 292
Wow Bianca,
That is a Testimate of Love, total hip replacement at 16 months
You really do love him,
most would not do such extremes.. I don't know about there in the U.S. but here in Australia it would be $ thousands and months of recovery and rehabilitation!
I wish you well, and good luck with that...
Kind regards, lone Ranger
Luther was 10kg at 8weeks when I got him and I can't remember what he was at 14 weeks.....it was probably around 18kg by then too....he is a bit over 45 kg (super fit and lean) now so bigger than he probably should be ( his parents were both well within the standard) so you could have a big boy on your hands.....he is cute either way!!!
Senior Member
Join Date: Nov 2012
Posts: 292
WOW, that is GREAT Sparra.... I hope my Boy gets that big...
What are you feeding him Sparra? I think you are the one that put me on to Nutro, and my boy likes it. Caesar is on about 90% raw diet, supplemented with about 10% Nutro.
On all Raw diet, my Breeder has his brother, that was a little smaller pup and smaller boned and he is 19.4 kg.
I have been battling with Caesar being a bit of a picky eater, probably all my fault for offering him mid day snacks, but today I took him up to a proper scale at the Vets and he is actually down to 17.7 kg. That could just be because I am putting him back on a regiment of morning and night feed only and no snacks, and he will catch up. Or it could be that my Breeder is offering a lot better range of food on Raw. She says: : He gets no kibble at all – plenty of chicken frames, thighs & wings (skin on, bone in), raw meaty beef neck bones, kidneys, hearts, offal & lamb flap whole & minced. Liver dry treats only. that is all.
Sparra, you have done well, what are you feeding??? Kind regards from the Sunshine Coast... Qld. Australia
---
Last edited by lone Ranger; 02-12-2013 at

08:49 PM

.
Thank you Lone Ranger
Yep I do love my goofy boy very much! I'm in Victoria (used to be Sunshine Coast too!) and it is approx $6500 each side.
---
Miss Molly Moo (aka The Piranha/The four legged Mouth) GSD 31/10
Raennik Hassan (Cooper) GSD 19/10/11
Paris Tabby Cat 15 years
Texas Tabby Cat 15 years