Like I said, more of a learning/fun experience
She takes a fish oil capsule daily, and some calcium supplements that were recommended when she twisted up her hind leg at 6 months. Is there anything else you would recommend?
---
Kymmey
Mom To~ Dakoda (b/t GSD), Acheron (black GSD)
I agree with the comments about her croup being short and steep. However, in spite of that, I wanted to comment and say that in my opinion she has a lovely tail. The GSD standard states of the tail:
Quote:
Tail bushy, with the last vertebra extended at least to the hock joint. It is set smoothly into the croup and low rather than high. At rest, the tail hangs in a slight curve like a saber. A slight hook- sometimes carried to one side-is faulty only to the extent that it mars general appearance. When the dog is excited or in motion, the curve is accentuated and the tail raised, but it should never be curled forward beyond a vertical line. Tails too short, or with clumpy ends due to ankylosis, are serious faults. A dog with a docked tail must be disqualified.
I love the length of her tail, and the bushiness. I think the tail set may be
slightly
low, but the top line through the croup does flow nicely into the tail. One thing I just don't like about some GSDs is the "rat" tail (short [or kind of short] and not bushy). I think that a good tail can sometimes be overlooked.
Her in motion shot shows a nice tail position as well: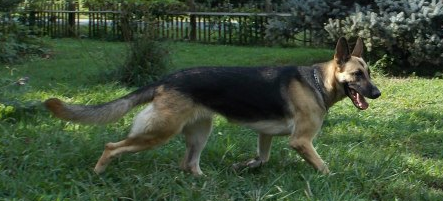 And her stacked shot shows the good length. You have her bridged, so the tail doesn't
really
lay on the ground as much as shown.
---
Willy
RATCHX3 High Jinks vom Neuanfang - Gotchya Day: 1/23/2013 DN, SG, SR, CA
Inspire Spark to Ignition! (Ignite) Gotchya Day: 10/8/2016
C-ATCH Pimg - RATO, UJJ (x2), DJX, HIT, CA, CGC, High in Games, Reserve High in Standard- CPE Nationals 2014
---
Last edited by wildo; 09-12-2012 at

01:02 PM

.
Thank you, Wildo! Her tail, or whip as Matt calls it, is definitely one of my favorite things just for the fluff on it. It's not excessive for her fur length, but it's not super short/thin either. (: I never put any thought into it as far as standard went... Thank you very much for your comment!!!
I do have her stacked HORRIBLY in that last picture! Her tail is better seen in the first stacking picture, as far as its length goes (though the angle is over-extended there as well. One of the things I am trying to work on).
---
Kymmey
Mom To~ Dakoda (b/t GSD), Acheron (black GSD)
Banned
Join Date: Mar 2006
Location: Beautiful Pacific NW
Posts: 11,005
Quote:
That's all she really is, is a companion. (: I would like to do shows with the next shepherd I get. I just figured my out-of-conformation dog would be a nice learning tool xD
I agree with this - it doesn't hurt at all!
I actually compare my Dachshunds with the breed standard, and only 2, maybe 3 come close to 'matching' that standard. A few are very far outside it!
Our GSD is like yours, a "pet quality" dog - but then again, most are, and even dogs bred for show/work end up being "pet quality"
That's true (: But her pet quality, to me, is worth more than most show qualities.
---
Kymmey
Mom To~ Dakoda (b/t GSD), Acheron (black GSD)
love that motion picture of her, very pretty girl
Thank you, Lori (:
---
Kymmey
Mom To~ Dakoda (b/t GSD), Acheron (black GSD)
Banned
Join Date: Jan 2012
Posts: 1,291
i think an athletic looking dog that looks like a lot of fun. her ears seem a bit big to me?? just trying to find a negative. possibly lacks some pigmentation - **** i haven't a clue, nice dog.
Her ears are big, she never finished growing into them. Her growth was actually stunted at 6 months. So I have a forever puppy
She is also VERY lacking in pigmentation. I prefer dark sables, and black/reds. Buuut she's my baby girl and I think her coloring suits her well
Definitely athletic. She can CLEAR (and I mean clear it) a 6 foot fence, or my boyfriend's head
And he is 6'2"
---
Kymmey
Mom To~ Dakoda (b/t GSD), Acheron (black GSD)