Banned
Join Date: Mar 2006
Location: Beautiful Pacific NW
Posts: 11,005
I agree...there's no reason someone shouldn't get the dog whose looks they like, we did pass up a lovely long-coat male (Sable) last year before we got Ruger, because I don't care for sable pattern so much, he was a looker though!
I just wanted to say, there's something for everyone in rescue and if a dog looks a bit "shabby", you can deal with that easier than a poor temperament.
I don't particularly care for Ruger's looks, his coloration is pretty and my favorite color pattern, but his head's still all wonky LOL BUT he's got such a stellar temperament, he'll do
Quote:
No way, he looks fine and handsome. But the TV does look a bit shabby.... sorry...
I totally agree about the tv, I grew attached to it and refused to part with it
Thank you
---
I am only one, but I am one. I cannot do everything, but I can do something. And I will not let what I cannot do interfere with what I can do.
- Edward Everett Hale
My first two shepherds could be considered rescues. I don't think either was "shabby" looking in the least. Cheeko was a WL/SL cross who had it all! Except he had his tail amputated and was too gung-ho. He failed the k9 academy because once he latched onto someone he had to be pryed off
The second was 13-15 when I got him. He had "frosting" on his mouth, was a bit skinny, and walked a little wierd cause he had bad hips. But he loved everyone. There was a child who ran up and hit him in the face with a stick, and he wagged his tail and licked the kid! O_O So I was happy to have his temperament for the two weeks he lived with me rather than a stunning boy.
OP- One thing to remember about shelter dogs/rescues is that a lot of their photos are taken when they first arrive in bad shape, are nervous, and the photos usually are taken in lighting/by a person that does the dog no justice. So try to keep that in mind. (:
---
Kymmey
Mom To~ Dakoda (b/t GSD), Acheron (black GSD)
I just wanted to point out: any dog can look "shabby" if not kept healthy and well-groomed. So when you purchase a nice looking dog, the responsibility is yours to keep him looking nice.

Please scour the web and post some photos of dogs that look "nice" to you, so we can get an idea of what type you are after. Everybody has their own idea of what looks nice and what looks "shabby". And you don't necessarily have to pay top dollar for a beautiful specimen.

Are you interesting in showing the dog? If so, in what venue? AKC, UKC, SV?
Banned
Join Date: Mar 2006
Location: Beautiful Pacific NW
Posts: 11,005
OH yeah Ruger looked shabbier when we got him.
One ear up, one down, underweight, the whole bit. LOL
Just some examples for ya:
From Westside German Shepherd Dog Rescue-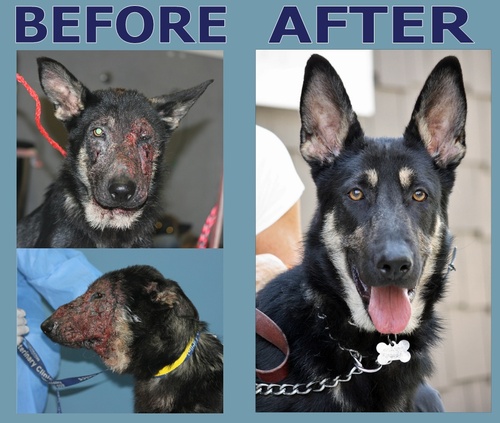 My Last Shepherd the day I got him (first one with the other dogs) and the last day I had him (second one lol)-
---
Kymmey
Mom To~ Dakoda (b/t GSD), Acheron (black GSD)
If you like the looks of Axel, then you are probably looking for a medium to long coat show type dog. Axel is predominantly canadian show lines mixed with working lines, and technically a long coat. Maybe start looking for a show kennel that has working ability (alot of show dogs are just a mental mess, beware of just a pretty face...), a retired show dog might be what you are after?
Good luck!
---
I am only one, but I am one. I cannot do everything, but I can do something. And I will not let what I cannot do interfere with what I can do.
- Edward Everett Hale
Crowned Member
Join Date: Jun 2012
Posts: 3,753
op, i think you need to take your time. learn about the different types of gsd. understand the time and training a gsd needs. learn about high drive, low drive on off switch ect. although looks are important, and we all have different tastes, there are many considerations that imho are more important. do your research, continue to ask questions.
Quote:
I have really looked into rescues but when I search rescues I only see dogs that are "mixes" and look shabby. I really want a great looking male.
The dog in my picture is a pure West German Show dog that I got from rescue. I even have her AKC papers. Her coat was not as shiny when we got her, but a week of quality food and a tsp of olive oil on her food daily soon had her looking great.
New Member
Join Date: Jan 2013
Posts: 14
wow pushing shabby rescues
---
I got on this site to locate responsible breeders for a purchase. It's 4 pages of forum later and what I'm seeing is people pushing shabby rescue dogs. I'm glad you guys rescued your dogs but that is not what I want. I want an awesome looking dog. It's not a crime to want to purchase a great looking specimen.