An Akita
---
Could somebody tell me about Akitas? I've always thought of them as beautiful dogs, and would like to hear more about them from people who have had experience with this breed.
---
Brittany

Varick vom Haus Jeffery
Dark Sable, intact male
DDR/West German Show Lines
I think they're gorgeous dogs myself. However, if you read some of the blurbs about breed traits it makes me a bit leery about owning one. I would also enjoy hearing some anecdotes from people that actually own one.
---
Xan Varik von Fernheim (born 4/3/13)
I know there are "American Akitas??" beautiful dogs that's about all I know. Probably best to get one from a "real" breeder.
My dog Crookytail is an Akita mix, and his younger sister Queenie is going to be my next foster dog (arriving tomorrow night, in fact), but even though they are at least half Akita, I don't think either of them is particularly in keeping with the stereotypical breed traits.
In terms of personality, Crookytail has always been very gentle, forgiving, biddable, and dog-social. He's a far cry from the stereotype of Akitas as animal-aggressive, standoffish, stranger-suspicious one-person dogs. (He
does
tend to be a little reserved with strangers, but that's about it.) Crooky is so adept with other dogs that I call him my "guidance counselor for foster dogs."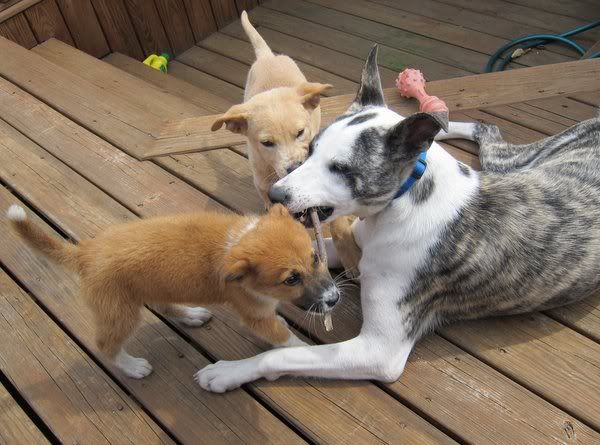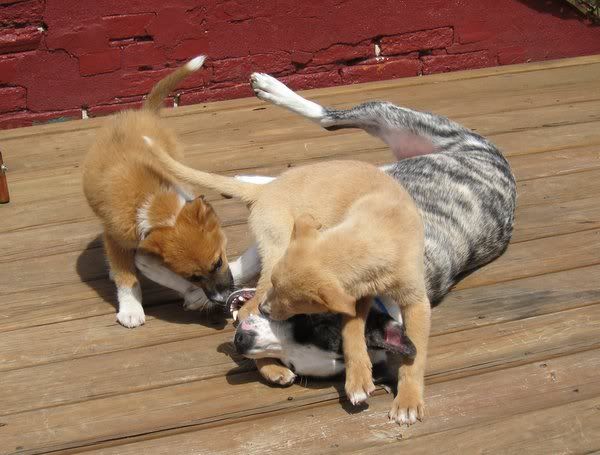 The breed traits he does have consistent with the Akita stereotype are that he's very quiet (hardly ever barks, only lets out a low "woof" when he alerts to strangers he thinks are menacing), has extremely high pain tolerance (once a groomer quicked two of his toes pretty badly in close succession; Crooky never flinched and just let her do the rest of his nails without any protest whatsoever), and is clean in the house (he remains the only dog we've ever had who never had a single potty accident in the house. There was zero housebreaking time with him, he was just innately clean from the beginning).
As much as I complain about his total inability to do any competition sports whatsoever, Crooky is a phenomenal pet dog and I have high hopes that his little sister Queenie will make somebody a great family pet as well.
but, tbh, I have not been a huge fan of most purebred Akitas I've met. It's only a small number of dogs and they were all strictly conformation-bred, though, so take that with a grain of salt.
---
ARCHMX TDCH Pongu the Insane, CD-C, RE, RL1X6, RL2X5, RL3X2 (GSD mix, b. Apr 2010)
Crookytail the Tigerwuff, RL1, ITD (Akita mix, b. Jan 2011)
the wiki article on akitas says

"They are known to be intolerant of other dogs of the same gender, as stated in the AKC breed standard"

don't know how true this is. a person considering one should look into this if they already have dogs
---
Tiger A.K.A Clown Town- 12/19/13
Akitas are wonderful dogs, but like other breeds come with a long list of potential genetic health problems. Some would say that a lot of careless breeding has promoted these problems, so choose a breeder with care, they can be awesome dogs!
Crowned Member
Join Date: Dec 2000
Location: Oregon
Posts: 15,205
They can be awsome dogs - watch who you buy from and expect to be a hands on manager with them.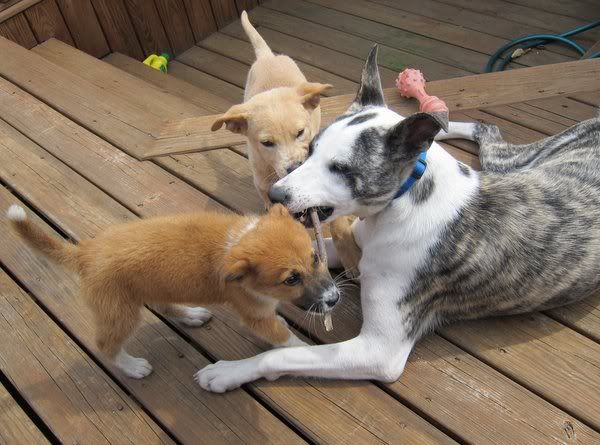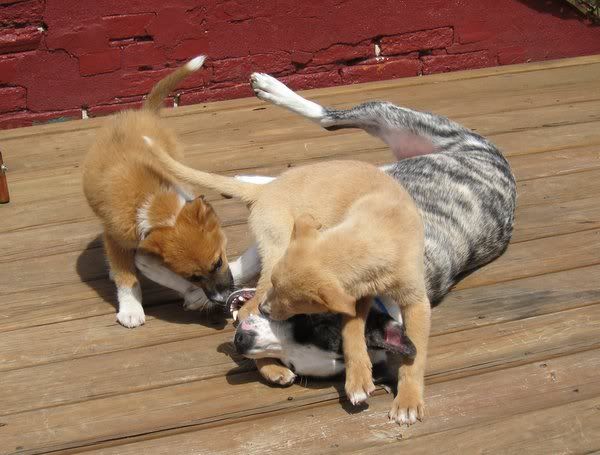 Great pics...looks like your crew is loving life....
SuperG
Scott's cousin has an Akita/ Black Lab mix. 50/50. She is the most stable dog ever. Very nice, stands her ground, confident. And QUIET. She was locked in our basement for 2 hours once and never made a sound. Wandered in when the door was open for a visit and DH forgot she was there.
I do not know much about Akitas....but from what little I do....they are formidable.....

SuperG