Well worth it.. but OUCH! That was expensive!
---
This thing was a pretty penny and I never imagined myself spending so much on a vacuum..... but this thing is amazing! My floors haven't been so nice in ages. Part of me is going to now miss my carpets.... they actually look nice!
I'm in love
It's the Dyson DC 41 Animal Complete.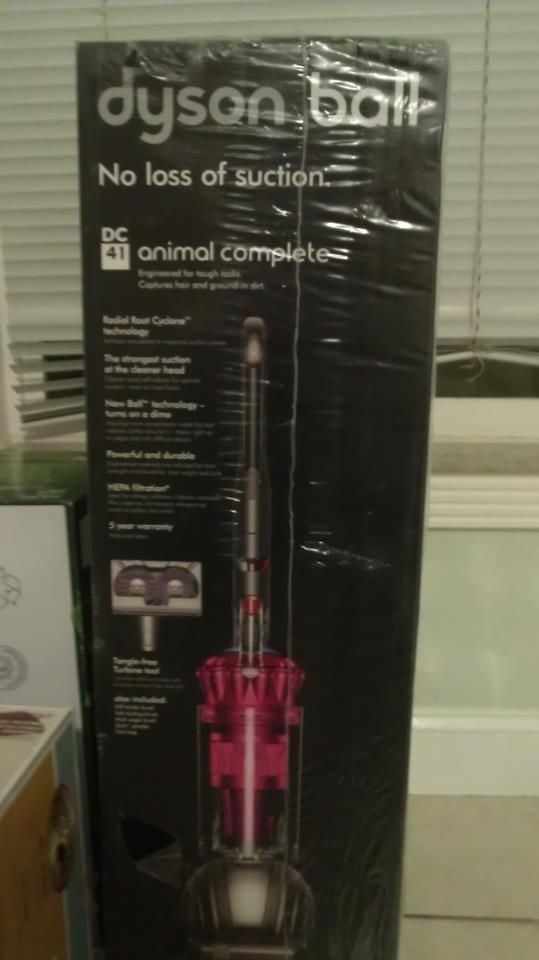 My SO just doesn't understand my excitement. And honestly, I feel a little ridiculous being excited about a vacuum.... But my life is SOOO much easier now... and my allergies have already calmed down!
Expensive, but worth it!
---
Alyssa
-Zira (01/09/11)
-Pakros von Jagenstadt "Duke" (01/06/10) -CGC
-Storm vom EnZ (05/16/12)

Ooo La La!
My Dyson is 10 years old and works like it did when it came out of the box....love it
ooooo I'm so jealous!
---
To view links or images in signatures your post count must be 10 or greater. You currently have 0 posts.
To view links or images in signatures your post count must be 10 or greater. You currently have 0 posts.
There's nothing like a good vacuum and a premium central ac/heat filter to help with allergies in our sunshine state!
That's so funny! I just bought a Dyson DC39 (the canister rolling around version of the one you've gotten), just this week!
And I LOVE it! It's been so great, especially with Juno's shedding.
I had a Dyson DC06 before that, and I'd worn it right into the ground. So this is like a serious improvement. The first time I used it, I was kinda embarrassed at how much it actually picked up. Even though I'd just hoovered the house the day before I got the new one, the canister had to be emptied twice and was so fully of rubbish. lol
We invested in a Rainbow about 15 years ago. We upgraded a couple of years later when the newer model came out. It happily gobbled up our Newfounfland's tumbleweed, and was excellent for cleaning wheedle spots during housebreaking days.

Nothing compares to a good cleaning system, for sure. Enjoy.
Congratulations and enjoy! One year, I actually asked for a vacuum cleaner for Christmas, so I understand.

And if you really find you miss carpet, buy area rugs --much easier to maintain and clean.
---
Last edited by Sunflowers; 01-19-2013 at

08:19 AM

.
The Dyson is wonderful, worth every penny
---
Olivia von Jagenstadt "Nikki" 11/21/2009


Heidi Mouse 02/10/1995 - 02/21/2009
I was excited when I got my dyson too
It didn't last long..I'm pretty disappointed in it
. I don't have much carpet and just a couple area rugs, but I have to constantly clean the roller and its a pain in my butt...it does have good suction and it works great on hardwood/tile floors.
---
Misty- Samoyed Mix, Tannor- Golden Retriever CGC
Robyn- GSD CGC, TC, Midnite-GSD CGC,TC, Brennan-Golden Retriever CGC, Batman-Husky/Greyhound , Apollo-GSD
a good vacuum makes all the difference with the crazy hair we have to deal with
---
__________

Tom
__________

Penny - 9/7/12 (GSD)

Abbi -5/9/09-12/7/12 (GSD)