I have had numerous cats - male and female - have been a multi cat house for 30 years....sex never seemed to be a factor on compatibility...the nastiest cats I have had were a male Occicat x Bengal and a female that I fed and rescued from 5 weeks on whose feral mother became a total lap cat - and they were fine with the other cats...and the two sweetest most bonded to me were a male barn cat rescue and a female Bengal....most of the cats I have had were dragged home from a horse farm or dumped off at a barn....

Right now I have a blue overweight female about 8, and a nearly 6 month old silver Bengal....both females.....they are getting to know each other and there are no real problems between them

Lee
---
Csabre Sch1, Hexe Sch2, SG Bengal, Lynx, Komet, Kira HGH & Kougar v Wolfstraum ~ Ziberia IPO1 ~ ATB Basha, Kougar & Kyra, Fenja, Sch3s, Cito, Sch2, Danger RH & Alice Sch1s ~Kelsey
wolfstraum.net

Quote:
I've never had female cats LOL ... my mom has a female and my sister has two females and they are nasty creatures.

I've always had male cats (7 over the years) and they have all been love bugs.

My personal motto - male cats, female dogs!
I have a motto too. No cats just dogs. Haha :P
Sent from my iPhone using
Petguide.com Free App
So much depends on the individual cats, but I have found that, in general, neutered males are the most tolerant of each other. Females tend to be more territorial and less apt to accept other cats in the household, even if they grew up together. There are exceptions to every rule, of course, but this is the conclusion I've come to after having serial multiple cats in my life.
Right now we have four neutered males in the house, and they all tolerate each other and even like each other to varying degrees. They often play with each other, sleep together, eat together, and share the same space. The only time we get any hiss-n-spit type stuff is when one cat wants to play and the other one doesn't. But we've never had any serious fights amongst them.
I've only had one experience with multiple cats. We've had a male siamese for years. He was always a solo cat, and was intact at the time. But I saw an elderly siamese at a rescue, and offered to foster, and adopt if my guy would accept the old man.
It took some time, but the old guy (Beau) was such a gentle soul, he was mostly blind and never showed any aggression, no matter what TicTac did. Eventually they did become buddies and I'd catch them sleeping together on the bed or on the couch...it was very sweet.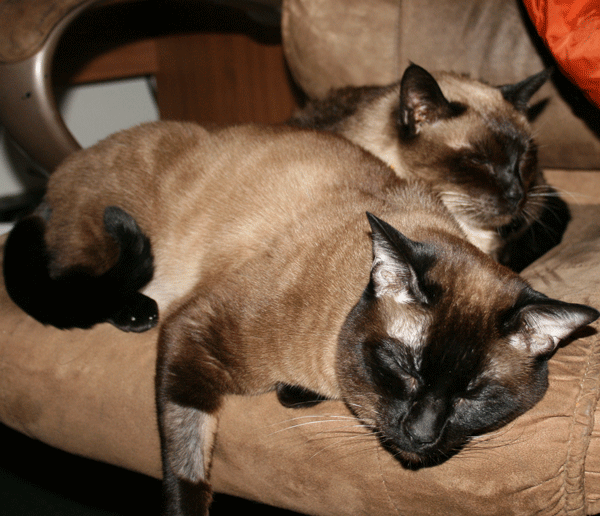 Unfortunately the old guy passed away after 2 years. I think he was very happy being loved in his twilight years.
We really have a full house now, so haven't considered getting a second cat again.
---
Djenga von Castra Regina RL2 BH HIC TT

To view links or images in signatures your post count must be 10 or greater. You currently have 0 posts.



To view links or images in signatures your post count must be 10 or greater. You currently have 0 posts.
PAM ARCH SG Kessy vom Waldwinkel 2xHGH Schh1 OB2 RL1X RL3 RN TT AD

To view links or images in signatures your post count must be 10 or greater. You currently have 0 posts.
Madina vom Arolser Holz BH AD CGC
Knighted Member
Join Date: Feb 2011
Location: Toronto Ontario
Posts: 2,081
i always thought siamese were a bit more fiesty? same with bengals?
I have 3 females and two males. The two males are more mischievous. The all black male thinks he runs the house(he acts like a dog) and fights with 2 of the 3 females(one being worse then the other). The three females get along fine. The other male stays to himself(with animals), but likes being with people. In general they all get along with each other and all of them love people. But when the male black cat gets in his moods, no one is safe.
---
Misty- Samoyed Mix, Tannor- Golden Retriever CGC
Robyn- GSD CGC, TC, Midnite-GSD CGC,TC, Brennan-Golden Retriever CGC, Batman-Husky/Greyhound , Apollo-GSD
Master Member
Join Date: May 2003
Location: Helena Mt., USA
Posts: 916
Um....I've had anywhere from 1-3 cats at a time. We currently have 2 females and 1 male all spayed and neutered.

It really depends on the cat. Ours have always gotten along pretty well. The male we have now is an indoor/outdoor and is very demanding when he wants out. Like he'll mark the doors, bags and backpacks near the doors, my bed, etc. if we don't hop right to it.

But I had a female cat that could do that too.

I like cats, pretty much any combo, as long as they get along mostly and are "fixed".
---
Chris, mom to:
Tank (Cardigan Welsh Corgi)
Guinness (Brittany)
Odin (GSD 8/28/13)
Cosmo-space cat
Chess-fuzzy cat
Valentine-our ragdoll cat
Two great skin kids
Crowned Member
Join Date: Jun 2012
Posts: 3,753
imho, doesn't matter, cats will either bond or they won't, doesn't matter if male, female or any combination.
Depends on the cat. My male cat needed to be in a one animal house and was not afraid to show it. My current two females get along, although they are not best friends. Cats don't really seem to care about gender.
---
Freyja GSD- 6/21/10
Angus GSD-02/11/07
Bevin (princess kitty) 08/27/07
Porsche: kitty 7/2012

Teddy (collie)- 1990-09/13/2006
Franklin (collie) 1996-06/26/2006
It's true that cats don't really care about gender, assuming they are spayed and neutered of course. You don't really see issues like same-sex aggression, except in intact toms. It's more about the temperament of the individual cat, but as I say, I have found that males are more tolerant and less territorial than females, generally.

If I was going to adopt a pair of kittens, I'd go to the shelter, find two males that are sleeping together in a ball, make sure they are well-socialized to humans, take them home and neuter them around 5 months of age. When neutered that young, they never get testosterone-fueled aggression and they stay playful, easygoing and "kittenish" forever... but don't worry, they will still hunt and kill vermin! And we don't see issues related to early neuter like in dogs.