12/14/12 & My Longest walk this am.
---
**I wanted to post up some pics I took this morning as I made the walk from my house up the road to the Sandy Hook Elem School entrance. I hope no one minds. I plan on walking the center of Sandy Hook on one of my days off (wed,thur,fri) to take more pictures of everything around town. I took the puppy (14 wks old) from our litter this morning as he is the easiest of the 4 dogs to walk right now being 8 months preg. I live on the road that the schools driveway is off of and I have to pass the school every day to get anywhere else in town. Our road is still closed and they have 1 detour around to get off our road currently. The 26 christmas trees in my pictures were lovingly bought and set up by a woman from South Carolina showing that love and support comes from around the world. The lower post if what I put up as my FB status. Again I hope no one minds.**
I took Diesel this morning to pay respects at a quieter time. Usually this walk is a piece of cake to walk but this morning with my heavy heart, tears in my eyes, and a little puppy by my side I walked the distance to the school. The state PD officers at my end of the road closing were wonderful, welcoming, warm and I thanked each one of them personally for standing guard on our small road. After ...
finally waddling my 8 month pregnant self to the entrance to the school I was met by more kind officers, firemen, unfortunately news crews which I denied comment and the few others there to pay respects. I stopped at each of the Christmas trees and said a prayer for each child lost. Diesel sat quietly at each tree looking up at me as if he was saying it was ok mom they are watching us from above. I said a prayer for my unborn child that he/she will be born into a better world. This town is no longer the quiet town I have come to love. It has been forever changed. Again I want to thank NPD and NPD dispatchers who are my friends who were first on scene and continue to push through this. I want to thank all local and state PDs, FDs, ATF, FBI, DEA, EMS, all volunteers and anyone else who has been involved in this tragic incident. All of you have given your all to save the lives of these who were lost. I pray in the days to come you find what you need to help you recover the best you can and rely on family and friends to help support you through these next few days, weeks and months. I love each of you and am thankful we have you all to help protect our town! Everything you have all done will never be forgotten.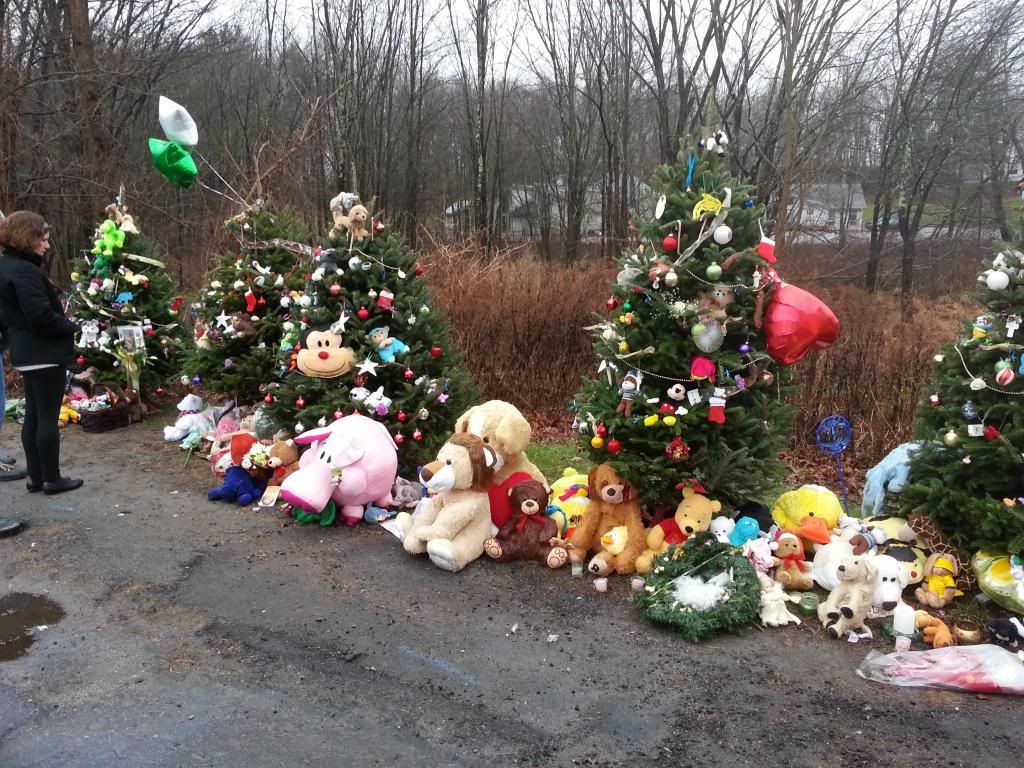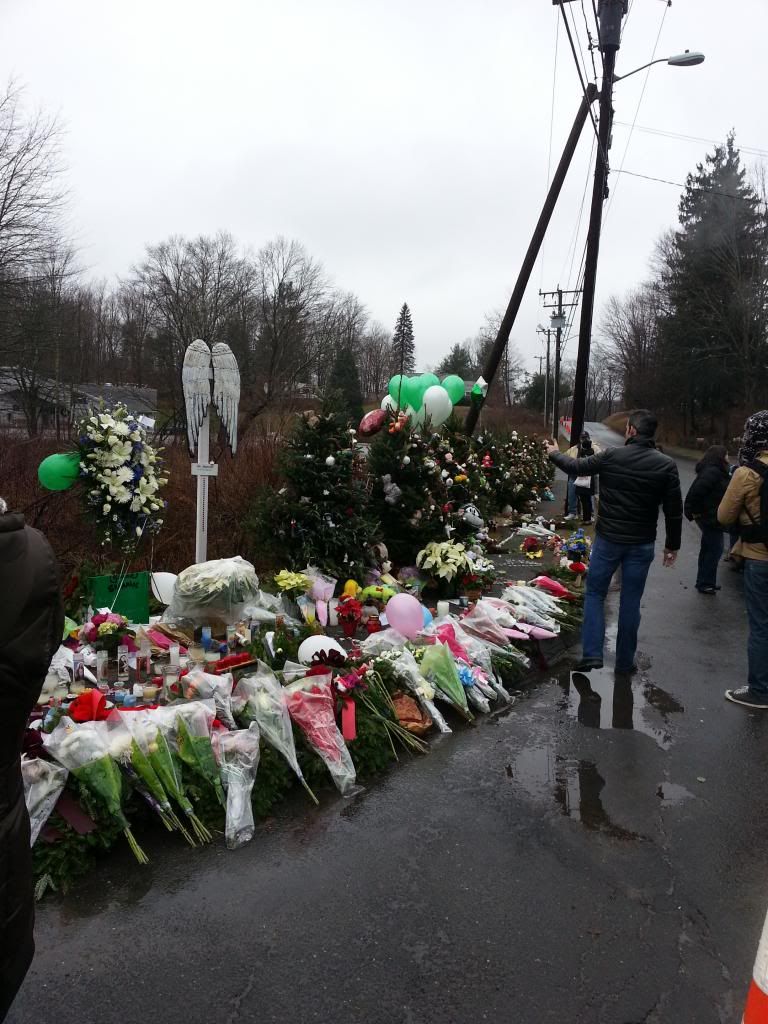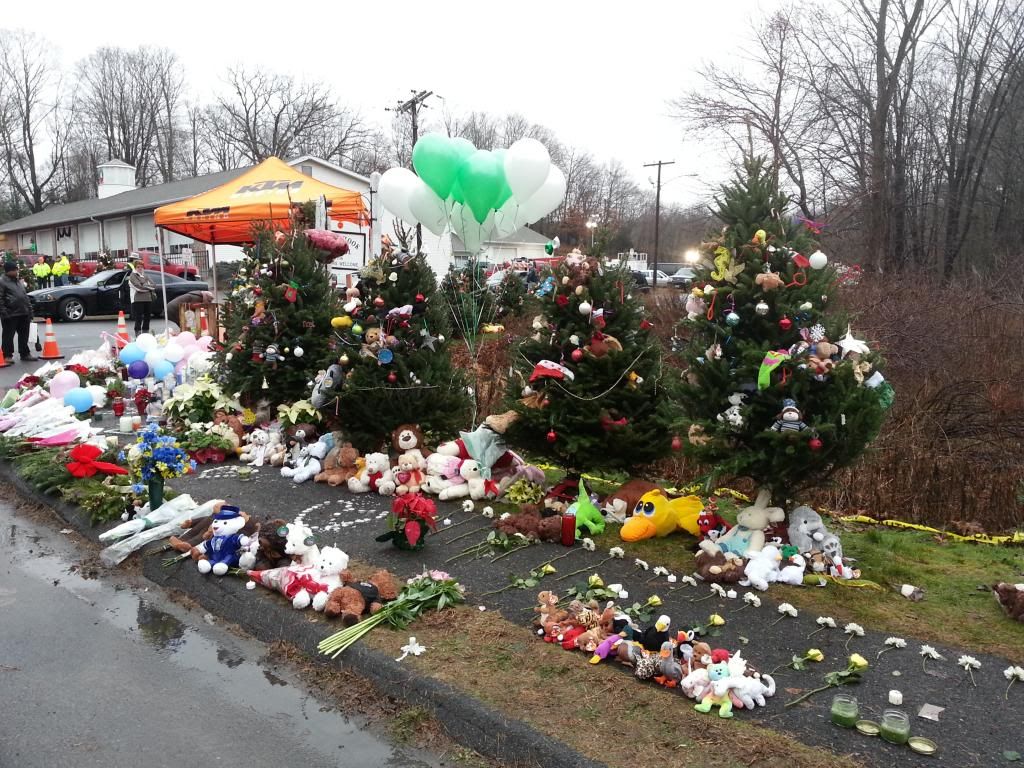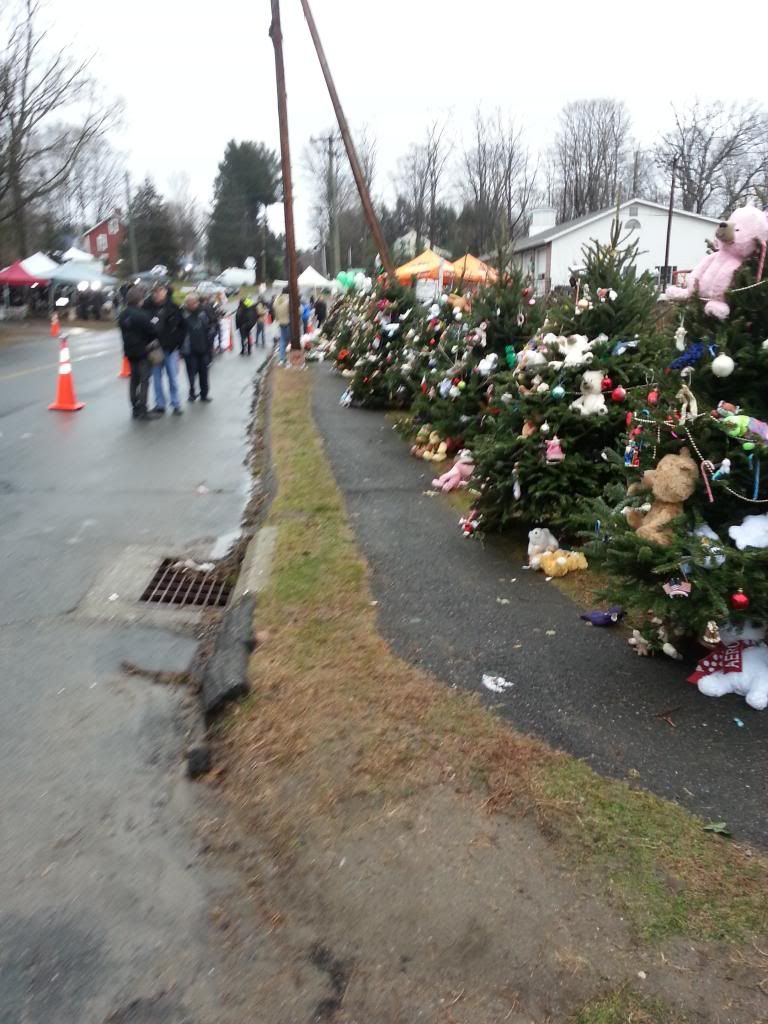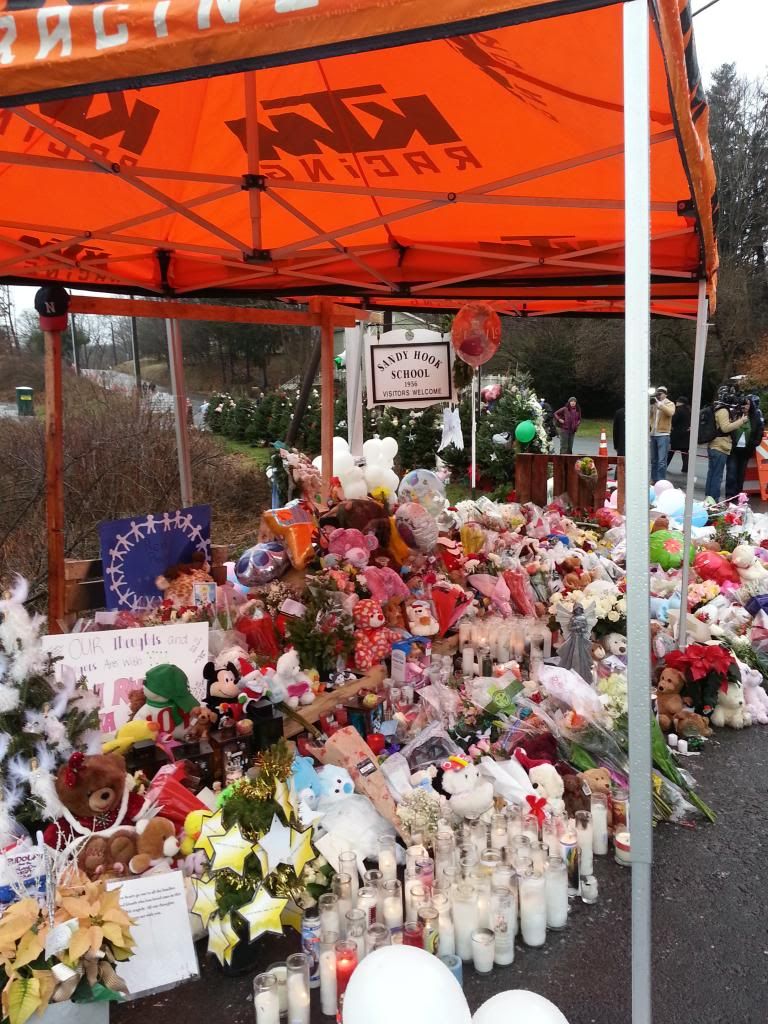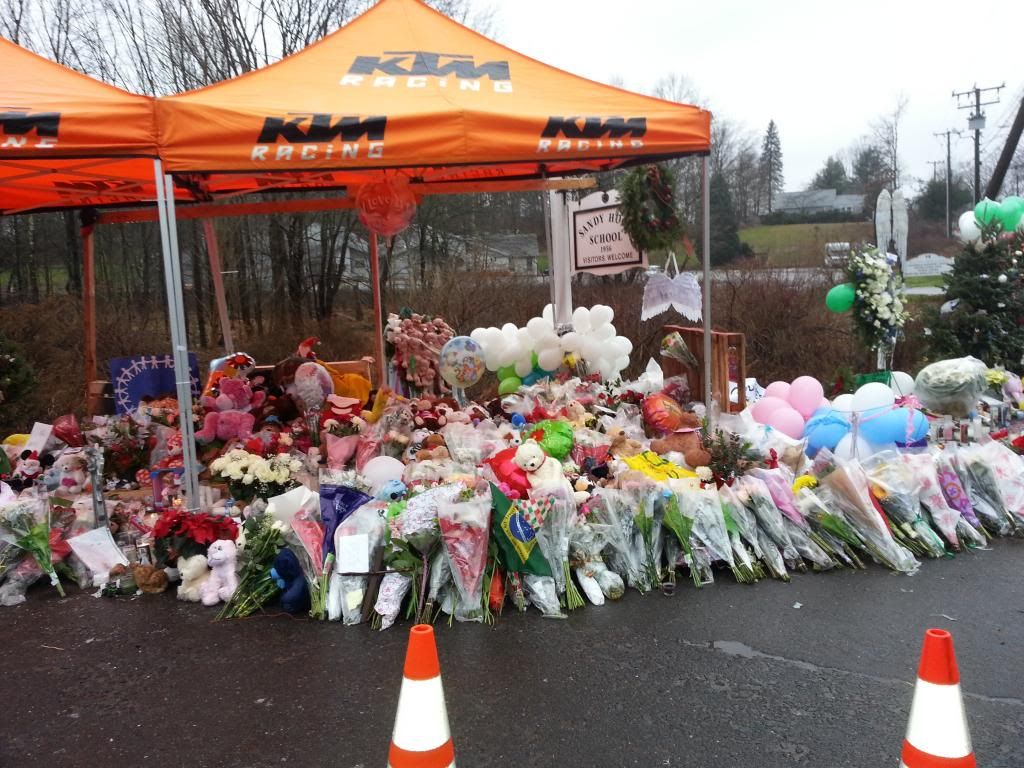 ---
Lexi- GSD/Bull Mastiff
Zeus-GSD
Kimber-GSD
Diesel-GSD
___________________
Calvin- poyldactyl cat
the whole thing is still so surreal
What a tribute! (pictures) So many caring people.
I just heard Geno Auriemma(sp) donated 80,000 dollars to a fund set up.
You hang in there, such a sad sad time, and your right in the middle of it
---
Diane
Ozzie vom Kleinen Hain
Danger Danger vom Kleinen Hain aka Masi
Tranquillo's Kizzy
Jakoda's Kholee
"Angel" Jakoda's Bewitchen Sami CD OA OAJ OAC NGC OJC RS-O GS-N JS-O TT HIC CGC
"Angel" Steinwald's Four x Four CGC HIC TT
"Angel" Harmonyhill's Hy Jynx NA NAJ NAC NJC RS-N JS-N HIC
"Angel" Jakoda's Jagged Edge
Banned
Join Date: Mar 2006
Location: Beautiful Pacific NW
Posts: 11,005
Thank you for sharing...I think today is the first day I haven't broken down into tears at the slightest reminder...
Thank you for posting these <3 Newtown is near and dear to my heart...I grew up close by and worked a lot there. A friend is a teacher at SHES.... I'm so glad I got to see this. Thank you again.
Thank you for sharing your pictures ... so sorry this happened, my heart is breaking for the families of all those who lost their lives.
---
Gayle, Faith, Ledgie, Scooby
At the Bridge: Andy, Abbey, Tasha, Tex, Echo, Yukon, JR, Too, Niki, Bo, Ringer, Kelly, Honey, Mac, Slider & Bruiser
I still break down when I hear the names and ages of the children. New Milford had a vigil last night and it was so hard to hear the names read yet again. I think just about everyone I know is somehow connected to someone in Newtown. A co-worker from when I worked in the NM school system lost her grandchild. A fellow employee of WCHN lost his child. A tech at the hospital I work in has family that worked at SHES. It just goes on and on. I just cannot stop from watching the news about it. I feel the need to go there and add a bear or flowers or something. My son feels the same. He lived in Sandy Hook with his family not long ago. I bought my first horse in Newtown. Stella went to an agility class in Newtown. How often I went to the movie theater for $1 there. And watched the Newtown HS band compete with the New Milford HS band. Newtown really is a beautiful New England town. It remains beautiful in spite of the acts of a deranged individual. I pray for healing and comfort for all the people affected by this tragedy, the families of the victims, the responders who came upon such a horrific scene, the survivors who somehow must go on, and all of Newtown.
Thank you for sharing the pictures... it's amazing how many people have stepped up and added support for that community. It breaks my heart still to even think about this.
So many small children. And the brave school faculty that did everything they could to protect those kids.... even knowing it would take their own life. How sad...
I look at the pictures my sister sends me of her kids (who are all under 7), and I just can't fathom anything ever happening to them. The pain this community must be going through is terrible, I can't even comprehend how much it must hurt. To lose a loved one, a child none the less, is hard enough.... but, to lose them because of a selfish, psychotic, rampage of some random troubled kid..... Oh how I wish this was just a really bad nightmare.
---
Alyssa
-Zira (01/09/11)
-Pakros von Jagenstadt "Duke" (01/06/10) -CGC
-Storm vom EnZ (05/16/12)

thank you for posting the pictures.
I wish I had the words to say...
---
But the jar he was making did not turn out as he had hoped, so he crushed it into a lump of clay again and started over. ~ Jer. 18:4


To view links or images in signatures your post count must be 10 or greater. You currently have 0 posts.


To view links or images in signatures your post count must be 10 or greater. You currently have 0 posts.

The trees are a beautiful tribute. Thank you for taking the time to post the pictures. It must be so hard to be right there in the middle of where it all happened. I wish there were words to make it easier but I find none. I still cry at the news and pictures and I don't even know anyone there. I don't know how those that lost loved ones will make it through the holiday season. I'm glad it is a small town and there is support there as so many people know each other. I read on another thread that they transported therapy dogs up there to help the people. Best wishes to you and your family.
---
Teri

Amorette Vom Godinghofer of Summerland (AKA Abby) 5/21/15
Snake Vom Eselspfad RN CGC (AKA Raina) 3/5/08
Pyrate CGC 4/1/03-5/16/12 RIP
To view links or images in signatures your post count must be 10 or greater. You currently have 0 posts.


Too many to list waiting at the bridge but remembering them all
Please be aware that you did not take that long walk alone. The entire World is by your side. Hugs and prayers to you, your family, friends and neighbors.
---
Hondo Von Dopplet L Bauernhof "Hondo"- GSD
Lilie's Tug McGraw "Tug" - Golden Retriever
Maggie - Mini Dachshund (Rescue)
Lonestar Pivo - Texas Blue Lacy
Ashe - Barn Cat
Katie / APHA