I love riding as well. Here are a few pictures of me having a little fun. I have a 2006 CBR600rr. In one of the pictures I'm riding a 2004 GSXR 1000.
I don't know if this will work but this was posted on fb by a friend of mine.
---
Carolyn
Lakota - WGSD 1/13/10
Wolfen - WGSD 12/31/14
Bull -WGSD 2-10-10
💔
Apache - Shiloh Shepherd 12/15/02 - 6/9/15
Kiya - Shiloh Shepherd 5/15/04 -12/19/25
Stumbled across this thread.
Have to make my contribution.
Ride safe!!
Glad to see a South Carolinian wearing a helmet! My last ride on a motorcycle was in high school when my boyfriend had one [back then you could ride a motorcyle BEFORE you were old enough to drive a car] and we went everywhere on it. It was fun, then he turned 16 and got his dads old car.
---
Nancy



To view links or images in signatures your post count must be 10 or greater. You currently have 0 posts.
-NAPWDA Certified Cadaver Dog

To view links or images in signatures your post count must be 10 or greater. You currently have 0 posts.
- Partner in Crime
Waiting at the Bridge: Grim (NAPWDA), Cyra, Toby, Oscar, Linus, Rainbow, Arlo, & Waggles
Junior Member
Join Date: Nov 2010
Posts: 33
My husband and I ride together and although I have my license, I don't have enough time to keep my skills up. We have a great time going with friends or spending time out around our area. Here is his bike. And the other is my puppy.
Quote:
Have you ever been to Deal's Gap?
My wife and I both ride. I, until recently, owned and rode a sport bike and my wife a sport cruiser. I sold the sport bike due to a wife and 4 kids to support and didn't take but a split second to go to jail or die. We still have her sport cruiser and ride less often than we would like.
We used to trailer to deals gap annually, but no longer have the time (three in college and one in highschool).
Attached a few pics from our last trip.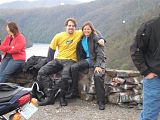 Last pic of the bikes before selling the sport bike.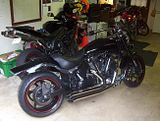 ---
Jaga von Falkenhein [Dolly] (DOB: Jan 6th 2012) -CGC
Cody Vom Haus Hall [Duke] (DOB: Jul 6th 2015)
I had a Sportster and I rode it to work whenever weather allowed. When my job went away I couldn't afford the insurance and sold it to a friend. I rode Deals Gap in the truck, was going to do it and rode up that way and could never get the motel there to answer, so I assumed it was closed. Called my friend in Dawsonville and took a hard left and went there. I did the "Ride With the Wolves" which is over GA state roads 20 and 75 and by Brasstown Bald . I found it was COLD in the valleys.
Semi retired and not enough money unless someone gives me a bike.....