Re: Recipes
---
MustLoveGSDs Chocolate Chip Cookies Link
Chocolate Chip Cookies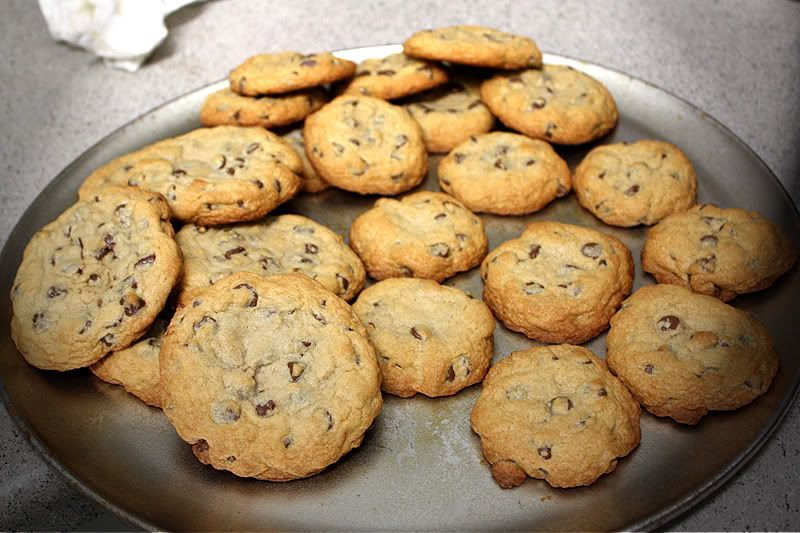 ---
FREE & EASY ways to contribute to your favorite GSD Rescue or Animal Charity

GOODSHOP.COM & GOODSEARCH.COM
Re: Recipes
---
Cara's Wrapped Asparagus

<u>For the Marinade</u>
Olive Oil ~ 1" in a plastic container w/lid
Garlic 2-3 tbs
Italian Seasonings
Salt / Pepper- 1 tbs each

<u>For the Cheese Mixture</u>
1 package (5.2 oz.) Boursin Garlic & Fine Herbs
or Substitute -cream cheese w/ lots of fresh garlic and Italian Seasonings
1 Red Apple- Pealed and Diced <u>extremely</u> fine

Prosciutto sliced as thin as the deli can (the pack from Costco works well)
10 large Asparagus or 20 medium (2 med/roll)

The How To~
1. Remove the ends off the asparagus by snapping them. Place them in the plastic container with the marinade and shake vigorously. Allow to sit for over 10 minutes, the longer the better.
2. Grill the Asparagus until tender and allow them to cool.
3. Make the cheese mixture by combining the Boursin cheese and apple. Place a spoonful of this mixture on a thin slice of prosciutto, put the asparagus in the mixture and roll the prosciutto up. Hold it together with toothpick if necessary.
4. Pam a baking pan and add the wrapped asparagus. Throw into the oven at around 350 for 20 minutes.
5. Serve warm
---
Cara
Here's my train of thought, you can follow it if you want.


To view links or images in signatures your post count must be 10 or greater. You currently have 0 posts.
~ GSD, born 2-9-2008
Lucky~ Golden Retriever, 2.5 years old
Mr. Monk~ Taunting Tabby Cat
Re: Recipes
---
WoOAOAOaOAAAAH!!! Youfolks can come cook for me ANY TIME!
---
Kate
Dublin and Gracie (RIP)
Timer (RIP)
To view links or images in signatures your post count must be 10 or greater. You currently have 0 posts.

Guinness Tennessee Porch Hound

To view links or images in signatures your post count must be 10 or greater. You currently have 0 posts.

Roxie Shennannigan

To view links or images in signatures your post count must be 10 or greater. You currently have 0 posts.

RILEY

To view links or images in signatures your post count must be 10 or greater. You currently have 0 posts.


Corn-Chive Pudding
---
Corn-Chive Pudding

20 oz. fresh corn, when in season

-or-

two 10 oz. pks. frozen corn

-or-

1 can whole kernal corn
1 can cream corn

When using fresh or frozen, coursely grind half in food processor


1/4 C sugar
1-1/2 tsp salt
4 eggs (large)
2 C milk
1 vanilla bean - split lenghtwise and scrape out seeds, pod may be used for something else
-or-
1 tsp vanilla extract
1/4 C butter (1 stick) melted and slightly cooled
4 tbsp flour
1/4 C chopped chives + 3 tbsp chopped chives for garnish

Preheat oven to 325. Butter 1-1/2 quart quiche dish (deep dish pie pan will work). Put corn in large bowl, sprinkle in sugar and salt and stir until well combined. In another bowl, whisk together milk, eggs, vanilla seeds (or extract), butter, flour and 1/4 C chives and pour over corn mixture. Stir until well combined and pour into buttered dish. Bake just until center is set, 40-45 minutes. Garnish with 3 tbsp chives.

*If at all possible, use the vanilla bean seeds, the flavor is unbeatable!*
---
Have dog, will travel...
Elite Member
Join Date: Aug 2007
Location: Clovis, NM
Posts: 1,189
This is a really good recipe and makes lots! Even my picky eater loved it

Baked Spaghetti

Ingredients
• 1 package (16 ounces) spaghetti
• 1 pound ground beef
• 1 medium onion, chopped
• 1 jar (26 ounces) meatless spaghetti sauce
• 1/2 teaspoon seasoned salt
• 2 eggs
• 1/3 cup grated Parmesan cheese
• 5 tablespoons butter, melted
• 2 cups (16 ounces) 4% cottage cheese
• 4 cups (16 ounces) part-skim shredded mozzarella cheese
Directions
• Cook spaghetti according to package directions. Meanwhile, in a large skillet, cook beef and onion over medium heat until meat is no longer pink; drain. Stir in spaghetti sauce and seasoned salt; set aside.
• In a large bowl, whisk the eggs, Parmesan cheese and butter. Drain spaghetti; add to egg mixture and toss to coat.
• Place half of the spaghetti mixture in a greased 13-in. x 9-in. baking dish. Top with half of the cottage cheese, meat sauce and mozzarella cheese. Repeat layers.
• Cover and bake at 350° for 40 minutes. Uncover; bake 20-25 minutes longer or until cheese is melted. Yield: 8-10 servings.
---
He is your friend, your partner, your defender, your DOG. You are his life, his love, his leader. He will be yours, faithful and true, to the last beat of his heart. You owe it to him to be worthy of such devotion. ~ Anonymous


Wow ...awesome ...now new things to do..
---
Basil Dec. 4, 2009 GSD
I am blessed to have family, friend, and the dogs and cats
Spicy curry chicken with a mango/coconut puree
---
Spicy curry chicken with a mango/coconut puree
This is a FAV at my house, I make it once a week and it's ridiculously easy.

Ingredients
2 Mangos, peeled and sliced, divided
1 can of coconut milk
4 teaspoons vegetable oil
4 teaspoons spicy curry paste (I use Patak's curry paste)
1 lb of chicken cut in pieces
4 medium shallots, sliced

Directions
Place half of the mango slices into the bowl of a blender with the coconut milk. Blend until smooth and reserve for later.

Heat the oil in a large pot over medium-high heat. Stir in the curry paste, and cook until fragrant, about 1 minute.

Add the chicken and shallots; cook until the chicken is done and the shallots have softened, about 5 minutes.

Pour in the mango puree, and cook until heated through. To serve, stir in the remaining mango slices.
---
Owned by five furballs
Bruno AKA Mr. Cuddles: Shepherd/Doberman rescue
Navah AKA Evil Munchi: My first bred GSD
Cats: Capone, Bugsy and Bonnie
Tator Tot Casserole
---
Ingredients:

1-2 pounds of ground beef, browned and drained
1 can of cream of chicken soup (do not dilute)
1 can of cream of mushroom soup (do not dilute)
8-12 ounces of your favorite shredded cheese (I use colby jack)
1 bag of frozen tator tots
salt and pepper (and or other seasonings) to taste

Combine the browned ground beef with the two cans of soup and spread the mixture into a 9x13 casserole dish. Sprinkle the cheese liberally over the mixture. Top with the frozen tator tots. It's up to you how many tots you use. Line 'em up in a row all nice and neat or toss the whole bag on top and spread around.

Bake @ 375 degrees for 40 minutes or so. You want the tops of the tots to be brown and crispy.

Note: Because I live down here in the South, I brown up some onion, garlic, celery and bell-pepper first and then add in my ground beef. You may also use ground turkey or ground pork. Or... heh.. all three if you want.

This meal is cheap if made by the above instructions. On average you'll spend roughly around 10 bucks for the ingredients. It's tasty, quick, cheap and most all kids LOVE it.
---
Last edited by BayouBaby; 09-16-2010 at

11:15 AM

. Reason: Needed to state that you do not dilute the soup!
Crock Pot Lasagna

Layer your lasagna makings starting with sauce on the bottom like you normally would, turn crockpot on low and cook for 8 hours. Great for immediate leftovers, does not freeze well.
---
Danielle


Mom to:
Rocky - 3 year old Black GSD
3 Skin Kids