Elite Member
Join Date: Jan 2013
Posts: 1,544
""""
---
Last edited by MadLab; 01-07-2013 at

04:40 PM

. Reason: double posted
Elite Member
Join Date: Jan 2013
Posts: 1,544
I believe Bart Bellons dog Thor is a GSD X Mal. I haven't seen a better trained dog yet. What do you guys think of his dog?
Member
Join Date: Oct 2009
Posts: 146
Quote:
And, one more time, there is an actual breed called Dutch Shepherd (Hollandse Herder), that does not come from Malinois. The people with the mixes don't want you to know that. (They both evolved from the same general population of farm dogs over 100 years ago, as did the GSD. But with the exception of some interbreeding to renew the blood after WWII, they are not breed with Malinois, and do not look like Malinois. They are smaller, longer, have a different head shape, and different temperament.)
I am no expert on malinois or dutch shepherds, but I have done a bit of research on them. In reference to the statement above, there is a distinction between the pedigreed or FCI Dutch Shepherds and the "unpedigreed" KNPV Dutch Shepherds. Here is a link that describes the difference:
http://www.vankamphuis.com/dutchiehistory.pdf
It is the KNPV dogs that seem to be in demand by law enforcement and military. The difference in KNPV lines is that a "malinois" is fawn colored and a dutch shepherd is striped. It is also not much of a secret that several different breeds have been folded into some dutch lines at one time or another. I have seen references not only to GSDs, but to Dane's and pits among others.
I have no personal experience with malinois or dutch shepherds. However, a couple years ago I went and observed the protection phase of the K9 trials for a local police department (fairly large metropolitan department). These trials draw teams from all over the west and Mexico, so there was a fairly large sampling of dogs. There were significantly more malinois/dutch shepherds than GSDs.
This was a real eye opener for me. Without getting into too much detail I will say this: the KNPV "mutts" were impressive and really stood out! Thus, the crossing of breeds is not always a bad thing - depends on the goal and the execution.
Like I said, this is usually done to produce pups that will be looked at for working purposes. It's a blue collar thing, and not usually bred in U.S.
Rafi is either a pb mal or a mal x gsd. Someone dumped him out in the country and a nice guy took him in. I adopted him from the guy. He was about 1.5 years old then. I have been told by mal people that he is pb but who knows...
He's is so handsome that people often stop their cars to comment on him. He is super smart, extremely biddable and handler focused, very athletic, always ready for action, friendly with people and appropriate with other animals. He is not for the faint of heart--he responds well to a clear, consistent, strong leader who uses positive reinforcement. He is an absolutely amazing dog. I have nothing negative to say about him.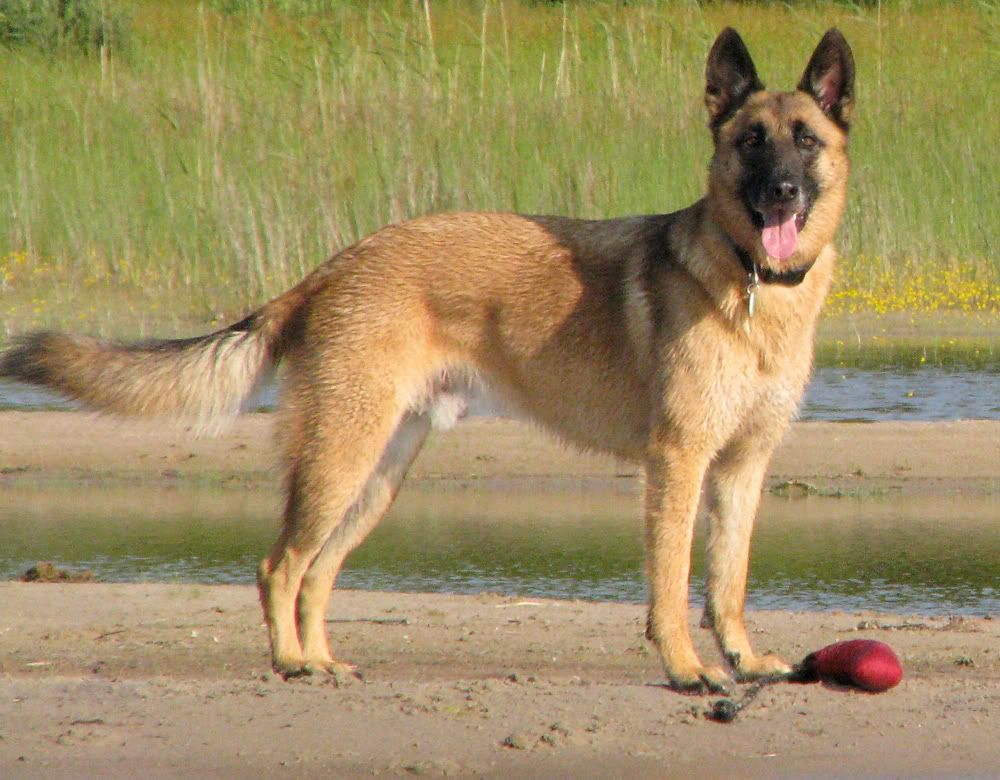 ---
Ruth & the 4 Legged Rescue Gang

Rafi the malaroo

To view links or images in signatures your post count must be 10 or greater. You currently have 0 posts.

Gio & Varda, the krazy kittens
....In my heart:
Cleo Kitty
Chama
Kai
Basu
Massie
Quote:
Like I said, this is usually done to produce pups that will be looked at for working purposes. It's a blue collar thing, and not usually bred in U.S.
What means "blue collar"?
---
Diabla Boroluz, my Daemon; IPO-A1, RH-T A
Akela de Poputchik, my Direwolf; IPO-2, Kkl1
Calais vom Adler Stein; IPO-A1, Kkl1
Crowned Member
Join Date: Mar 2007
Location: Grand Rapids, MI
Posts: 19,496
"Blue collar" means working class where as "white collar" would be wealthy. So I'm guessing a "blue collar" dog breeding would be one that is strictly for providing working dogs, not show dogs or pretty dogs to be sold for large amounts of money.
A club member has one
---
Hunter, CWDC UScA Helper
Beschützer des Jägers v.d. Sportwaffen
Katya v. Hügelblick
SG Aska v. Ketscher Wald
Yōkai v.d. Sportwaffen
Arya v. Allrothaus
One of my dogs is often assumed to be a german/mal mix. I don't have her papers so I'm not sure but several people who claim to be knowledgeable about shepherds have told me that she seems to be a mal mix
.