CPE Nationals- High in Games/Reserve High in Standard!
---
Last weekend Pimg and I competed at CPE Nationals- the national event (including USA and Canada) for the agility venue, CPE. Pimg jumps in the 24" Veterans division. The event was held at Lake Elmo, MN. It was super hot and sunny on Friday, cold and pouring rain on Saturday, and perfectly beautiful on Sunday. This was an outdoor trial on grass (or mud, Saturday and Sunday).
I'm so incredibly proud to say just how well Pimg did!
She Q'ed 5 out of 9 total runs
She had three 1st place finishes
She had one 2nd place finish
If that's not enough, and believe me- I'm super proud of how well she ran, her Q's and her placements... but she also earned:
High in Games Veterans
Reserve High in Standard Veterans
That's right!! I'm now calling Pimg a national champion! She earns High in Games
and
Reserve High in Standard!!! I'm so incredibly proud of this dog!
We had to leave a bit early, so I don't have the plaques yet. I'll get them next weekend. Also, thanks to DJEtzel, I have a few videos of our runs. I did purchase the videos from the videographer and will post them all when I get them (two weeks).
Pimg is now officially retired from agility, though I still plan on competing with her. We will dial it back and not do full weekends, but more like a couple runs day of show.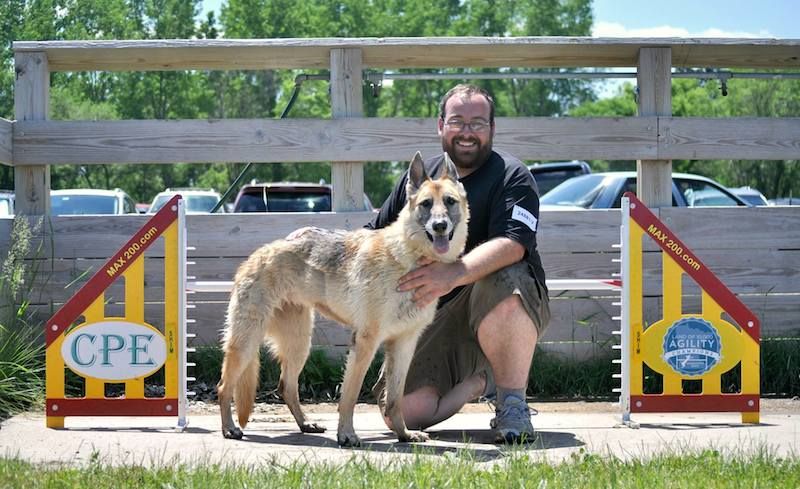 For now, enjoy the video:
In unrelated news, Jinks performs his very first back vault while playing around at Nationals!
---
Willy
RATCHX3 High Jinks vom Neuanfang - Gotchya Day: 1/23/2013 DN, SG, SR, CA
Inspire Spark to Ignition! (Ignite) Gotchya Day: 10/8/2016
C-ATCH Pimg - RATO, UJJ (x2), DJX, HIT, CA, CGC, High in Games, Reserve High in Standard- CPE Nationals 2014
The Agility Rocks! Moderator
Join Date: Aug 2001
Location: Bushkill, PA (The Poconos!)
Posts: 27,408
Congrats to the both of you! Must be so proud
---
***
MACH3 Bretta Lee Wildhaus MXG MJG MXF MFB TQX HIT CGC TC
Glory B Wildhaus AX, AXJ, XF
plus Miss Osin Blue Wildhaus
"Nothing new can come into your life unless you are grateful for what you already have. ~ "--- Michael Bernhard, gratitude
The clips were so much fun to watch! Congratulations to both of you--what teamwork!!
---
Moriah
Im in mn right now where u at
a big congrats to both of you!!! wonderful job..
---
Diane
Ozzie vom Kleinen Hain
Danger Danger vom Kleinen Hain aka Masi
Tranquillo's Kizzy
Jakoda's Kholee
"Angel" Jakoda's Bewitchen Sami CD OA OAJ OAC NGC OJC RS-O GS-N JS-O TT HIC CGC
"Angel" Steinwald's Four x Four CGC HIC TT
"Angel" Harmonyhill's Hy Jynx NA NAJ NAC NJC RS-N JS-N HIC
"Angel" Jakoda's Jagged Edge
Go Pimg!!
Great job Willy
---
Shanna

My Pack:

Jasmine - Female Miniature Poodle - born Aug 15, 2010
Loker Delgado Von Stalworth - Male GSD - born Jan 26, 2012
Koda & Zazu - 7 year old male cats
Alex - Male Cocker Spaniel (rescue) - RIP Cuddlebug 2007-2010
To view links or images in signatures your post count must be 10 or greater. You currently have 0 posts.

Awesome!

Congrats!!!
---
Lauren

Sinister ~ black male GSD 3.11.09
Draven ~ male Dalmatian 6.30.13
Crowned Member
Join Date: Feb 2011
Location: ontario -
Posts: 12,642
not too shabby Wildo, not too shabby at all ! Big congrats on your success .
---
Carmen

**********


To view links or images in signatures your post count must be 10 or greater. You currently have 0 posts.

Way to go Pimg! Congratulations Willy!


Lee
---
Csabre Sch1, Hexe Sch2, SG Bengal, Lynx, Komet, Kira HGH & Kougar v Wolfstraum ~ Ziberia IPO1 ~ ATB Basha, Kougar & Kyra, Fenja, Sch3s, Cito, Sch2, Danger RH & Alice Sch1s ~Kelsey
wolfstraum.net