Ava had a great show - 2 titles! :)
---
A year ago, I made a post to brag about Ava, who did her first show at 7 months old and brought home her CGC and her first qualifying leg of her CD, with a score of 182.5.
Well, for the last year we've mainly been having fun. I do a lot of classes with Ava and my other GSD, Ilse, and Ava has also been in training for SAR, as a Wilderness Airscenting K9. But, we hadn't done any other shows.
This year, I decided to enter her, again. The show was 2 weeks ago, and Ava was now 19 months old. I entered her in 3 Obedience Novice trials, and 3 Rally Novice Trials. She already had the one leg in Obedience from last year, but I wanted a little breathing room because the Obedience trials made me very nervous
I NQ'D us on our first OB trial - I double cued her on the recall
. But after that I got my act together
In the 5 remaining trials, Ava qualified on all of them, AND took the blue ribbon in all 5
She got a 185.5 and a 188.5 in the OB trials, to finish her CD title.
And, she got a 98, 98, and 100 in the Rally trials, to get her RN title.
We plan to move right on the the Rally Advanced trials, but we will be taking our time in getting ready for the Open Obedience trials.
Very proud of my girl!
Thanks for looking!
Julie
[IMG]
[/IMG]
[IMG]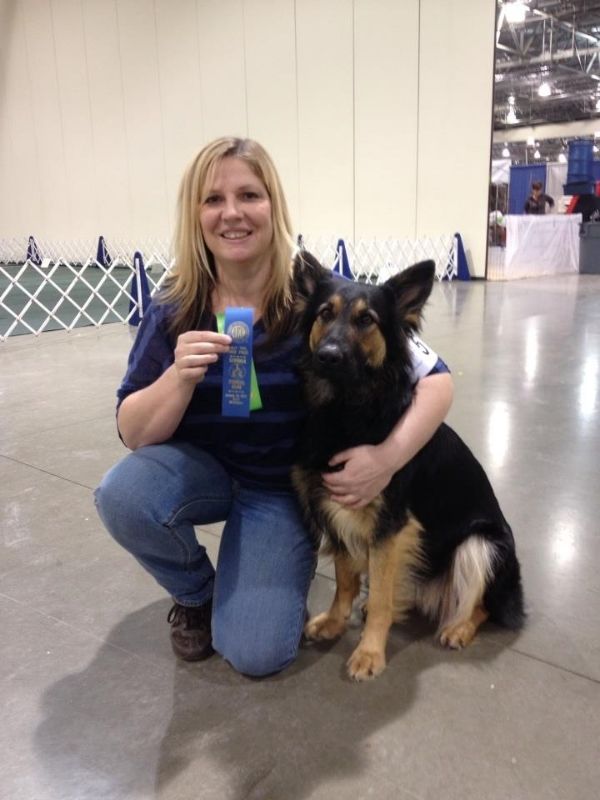 [/IMG]
---
Ilse CGC and Certified Therapy Dog
Ava Von Hanabrit CD RN CGC and SAR Wilderness Airscenting K9
---
"So that others may live"

Hannah vom Steffenhaus, BH, Wilderness SAR
Eisenhower v.d Polizei "Ike" Wilderness SAR, CGC
B'Lena z. Treuenhanden
Nixon vom Banach, RATN
Phoster, FEMA USAR(Labrador)
Ch. Pennywise Sticky Wicket(Dandie Dinmont Terrier)
Congratulations!!!
---
~ Diane ~

SCARLET ..... Lauremi's Almost Wasn't
CARLY ......... Ch. Lauremi's No Reservations (AKC GCh pointed, HIC)
RUSSELL ..... Lauremi's Paix
and absent friends... SAGE ~ Lauremi's Whim Z v Jakmar ~ AKC major ptd, HIC ~ 2010-2015
How great for both of you....congratulations...
Awesome!!!!! Congratulations!!!!

Lee
---
Csabre Sch1, Hexe Sch2, SG Bengal, Lynx, Komet, Kira HGH & Kougar v Wolfstraum ~ Ziberia IPO1 ~ ATB Basha, Kougar & Kyra, Fenja, Sch3s, Cito, Sch2, Danger RH & Alice Sch1s ~Kelsey
wolfstraum.net

Grats!!!!
---
GSD/Dinozzo (A.K.A. SG Jocose vom Mittelwest); Cats: R.I.P. Xena & Zora; Ferrets/Falkor, Draco, Drogon
Congratulations to both of you!
---
"A House Is Not A Home Without A German Shepherd"
HI!! Thought that might be you!!!! Ava is a star!
---
Warden - Sable GSD 4/23/2013
Blackjack - Black and tan GSD 4/23/11-6/1/2012
To view links or images in signatures your post count must be 10 or greater. You currently have 0 posts.

The Agility Rocks! Moderator
Join Date: Aug 2001
Location: Bushkill, PA (The Poconos!)
Posts: 27,408
Wow, well done!!!!
---
***
MACH3 Bretta Lee Wildhaus MXG MJG MXF MFB TQX HIT CGC TC
Glory B Wildhaus AX, AXJ, XF
plus Miss Osin Blue Wildhaus
"Nothing new can come into your life unless you are grateful for what you already have. ~ "--- Michael Bernhard, gratitude