Unless the breeder understands both lines inside and out, he shouldn't be doing any crosses. I would not take a first generation cross puppy - maybe a green dog at 1.5 years old so I can see the development. Perhaps a puppy one 3 or 4 generations down the line. The ones I have seen are just too unpredictable in terms of traits for me to invest in them just yet.
Margit van Dorssen at
http://www.arlett.com/
is one of the few that have done it successfully. She "gets" it.
---
Ash
To view links or images in signatures your post count must be 10 or greater. You currently have 0 posts.


To view links or images in signatures your post count must be 10 or greater. You currently have 0 posts.




It was much more common to "mix" the lines years ago. That is because many of the best "working line" dogs were also show dogs. What has changed the most is the show itself and the breeder's goals. There were dogs from "show lines" used successfully with working line dogs and not many people questioned it back then. Now, because both sides have moved in almost complete opposite directions, it is not something that I would do. Of course, with the way things are now, these kinds of breedings could be deemed "successful".

Years ago, I used dogs with show lines. Nowadays, there is little advantage to it IMO. The show line dogs no longer have correct structure. So, what they offered in that regard, is gone. And, the working lines are getting to the point where they need a big infusion of nerve, social aggression and a protective instinct. They are also becoming dogs who are not as willing to work in cooperation with their handlers.

What I see most often in the show line dogs is actually temperament that is more GSD- like in some ways but the big downside, is the nerve and heart of the dogs. They kind of "want" to do the work but are lacking in the areas that allow them to do it. I have seen more lately who seem to have a protective instinct but again, the nerves and lack of courage does not allow them to move forward. Don't really need to say much more. I actually work the dogs as the helper and what I see more often,( in dogs from both lines nowadays), is not really desirable if you want to breed a GSD. Simply looking to mix lines doesn't make much sense. There are things that are badly needed in the breed and that, for me, is what people should be looking for in breeding partners.

As for Quanto Weinerau. This was a good dog with very good character and in my experience, produced it WHEN BRED CORRECTLY. That is the problem with many dogs but the Canto/Quanto click that started back in the late 70s/80's took that line in the wrong direction. There are very good working line dogs with Quanto in the pedigree, I have a number of them myself. Again, 25 /30 years ago, things were quite a bit different. I saw and worked sons and daughters of Quanto. They were later to mature dogs, and even back then, people could be a bit in a hurry, but all of them had impeccable temperament and were beautiful dogs to look at. Not super drive monsters but a line that definitely had something to offer. The dogs I am talking about were bred to working lines, and were not of the Canto/Quanto variety.... although... I did work a few of those as the helper. They were not terrible dogs but that was way back when things were quite a bit different.
---

To view links or images in signatures your post count must be 10 or greater. You currently have 0 posts.

Anne

To view links or images in signatures your post count must be 10 or greater. You currently have 0 posts.

I must say that the biggest benefit we have is that my husband is also a really excellent helper.
He is able to "weed" out dogs that we should not and will not use for breeding.
There is ALOT of things that need to be "considered" when breeding any GSD...from either line.
Our goal is simple......breed and produce sound dogs from sound stock in both (mind & body)...that we can enjoy certain venues with when we desire.
They should be *capable* of what the breed should be able to do, although some will excel more than others (just a plain fact).....but none the less.....they should be proper German Shepherd Dogs.
Since we don't breed 10-30 litters a year for resell......our program is for ourselves....and our goal is the same. We are looking "years" down the road..today.
I can accept the ridicule and the negative opinions.....everyone is entitled to theirs....but my goals will remain the same.
We feel the need for an out-cross of genetics for "our program" ...and have high anticipations for it.
---
Huerta Hof German Shepherds

To view links or images in signatures your post count must be 10 or greater. You currently have 0 posts.

....where breeding is still considered an art....
Crowned Member
Join Date: Apr 2003
Location: georgia
Posts: 4,262
Quote:

I'm not seeing the mix in this pedigree Mary. What are you looking at that I missed?
I had that dog bookmarked as a SL/WL mix.... but you are (of course
) correct. Either I mis-marked her, or saw "kirschental" and just assumed. Can't remember which now.
"I like Daffy" Moderator
Join Date: Jun 2003
Location: New Douglas, IL ( near St. Louis)
Posts: 3,279
This is my ASL (3/4) and DDR (1/4) cross. I chose to get him because he was sired by my show dog, and I wanted to keep the line going. Jag is very handler sensitive if I yell, buy he can take a strong leash correction from me without folding. He is fairly high drive -- fast retrieve, fast recall, good at jumping. In a lot of ways he acts like his grandfather Keno.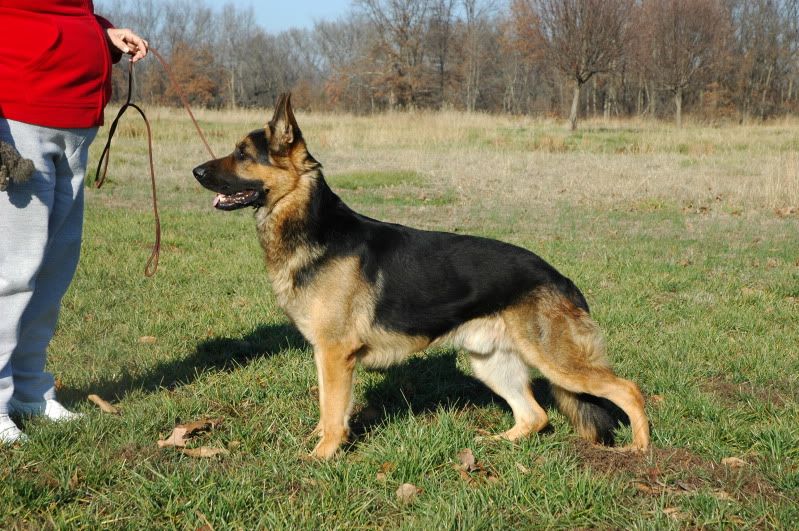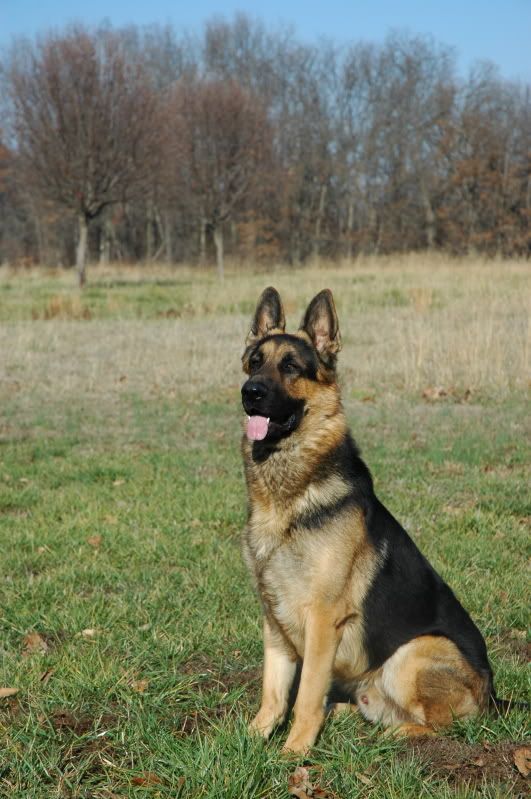 http://www.pedigreedatabase.com/dog.html?id=653423
---
Last edited by Andaka; 11-05-2012 at

11:15 AM

.
Crowned Member
Join Date: Feb 2011
Location: ontario -
Posts: 12,641
One of the best recent examples that I know personally and have seen in every situation , trial and home-life was a combination that was done with sister to Carmspack Kilo (french ring brevet bh ad) Katiana
Carmspack Kilo
Linda Shaw and I co-owned Katiana who she refers to as Katja /Katia . Prior to taking on Katia she had a gorgeous "american show line dog" Wiesental Corry Mensenredder -
"Corry" . I knew Linda over 35 years ago when we were both training with our dogs at Ontarios first schutzhund club. I was training with a french ring club and was really excited about it , very dedicated going out 3 - 4 times a week - training and observing - dogs and handlers . Linda looked in to the club and shortly after joined also , with her show line Corry who was given no leniency in the evaluation or training , no accommodation . And he did well , very very well, better than west german show line dogs , better than the passel of leerburg (frawley) largely Sagus/Greif concentration dogs (which was a trend at the time). Bear in mind this goes back almost 20 years now and the show lines were different than those current.
I knew Corry's background and had admired the dogs in his background having seen entire litters and knowing them to be sound , sane, stable, adaptable , healthy vigorous , beautiful specimens. When you do a pedigree search you see two links to Klodo Eremitenklause
V Klodo aus der Eremitenklause
and I believe Eko-Lans Paladen was in there a few times.
So a breeding was done to her "Corry" and my Katiana and the result was her beloved "Timmy" who passed away just shy of 14 years -- Timmy with the registered name of Shawlein Easter Parade (of all things!) -- an ambassador for the breed where ever he went . A dog with high threshold , handler forgiveness, balance , drive, presence, and conformation -- training in french ring , then when that club scene fizzled she and I switched to schutzhund - Kilo almost 10 years . She easily earned the Sch H 3 . Here is a record of those dogs , Corry, Timmy, and Katiana
Shawlein Fine Art & Purebred German Shepherd Dogs
At french ring - we had guests coming in for training , and trialing from Michigan -- Cheryl Carlson and some members of her club. The dogs she brought along were either total "american" or cross with the gsd of the time - 20 plus years ago which is a different show line than now - probably still had Quanto really close up -
I asked her , as I do just about everyone whether the dog is good or bad , what was the pedigree. Those dogs had Eko-lans Paladen . Cheryls competition dog at the time was Sebastian which I had the pleasure watching in training and trailing and the dog was awesome ! Cheryl was my "decoy" for the defense of handler portion in the first Campagne trial. The gun was to be shot in the air , meanwhile she fired parallel to Kilo's ears -- I am sure he went deaf because I sure did , my ears were ringing for a long time ! (yes he did release) . Cheryl played the role of a gypsy woman in long flowing skirt , carrying a basket , being normal in behaviour - just a woman shopping at the market , then showing her real bad assailant side .
History
Master Member
Join Date: Oct 2010
Location: Florida
Posts: 802
Jasmine is czech and WGSL mix. When i was looking for a puppy i had no idea what lines were or that there were working vs. showlines.
She is very reactive. at 6 months she began fear barking. Couldn't get near anyone or anything because she would bark.
After 2 years, we can go places, pass people, other dogs, etc without a peep.
however, she still doesnt really like to be touched and can be approached but if they stick their hand out she will back away and may bark
if they look her in the eye, she looses it.
She is better with women than men.
Has low/medium drive and if i let her will lay around all day long except for the occasional play session.
when people come over, she has to be put up or she barks and will low growl with no teeth or hackles, with high value treats and being on leash she will warm up to people but we normally just will put her away.
but once she knows you, she is a great companion and loves my parents and my BF's parents
here is her pedigree:
http://www.pedigreedatabase.com/dog.html?id=689307
and a phone pic
Crowned Member
Join Date: Feb 2011
Location: ontario -
Posts: 12,641
the most important thing is to be brutal in the evaluation of the pups and ONLY go forward with the ones that pass , without compromise AND come from litters with similar traits . So not the exceptional dog -- .
I have pointed out dogs from show line in recent past threads that embody these traits. This is one dog that caught my attention
WilmothHaus - WenzelMozilla/4.0 (vBSEO; http://www.vbseo.com)
I keep an eye on things .
My friend , Ruth Yeulett tends to blend tested and selected show lines into my working concentration . I care because I tend to get offspring maybe two three generations away from that mix and fold it back in to my own, and two three generations away from that Ruth will get one and continue . Her last "find" took her 18 months and several people doing the evaluation . Previously she relied on Olympus (Olaffson - spelling?) - so for purposes of explanation if you were to look at Carmspack Sumo -- (and I could not ask for a better dog) brother to Laurel's Journey recently BH , you will see
Carmspack Sumo
Bazita von Olympus
Bazita vom Olympus
which is show , but there was a great deal of thought put into selecting Bazita , who brings in old HERDING lines through Kirschental and Marko Cellerland so is highly complementary to the direction of my, our, overall breeding attempts.
Quanto brought a good solid temperament with desire to work.
Quna
Crowned Member
Join Date: Feb 2011
Location: ontario -
Posts: 12,641
you can not mix show and work and like hot and cold and expect perfect temp --- some pedigrees have no business being put together --
Banned
Join Date: Nov 2010
Location: Wisconsin
Posts: 5,130
So would the breeders agree that this is something that should be looked at with even more care than a regular WL/WL or SL/SL breeding?

Like carmen said, its another study of pedigrees and that's how every breeding should be taken but this seems like it has a lot more variables and a lot more risk involved. So is it even worth doing? I'm happy to hear that there are breeders that have had success...but are these successes due to their expertise or just blind luck in a certain way.

We've had a majority of posters point out how their dogs aren't the greatest...and then we've had some posters point out dogs that they don't really know but just have heard of them/seen them. So without knowing the breeder/their knowledge, I think that these mixes are a huge risk...we can all approve of Carmen or Robin doing these as we have a nice understanding of their knowledge, but then just some random breeder? I wouldn't trust them.