RIP Karl.
---

To view links or images in signatures your post count must be 10 or greater. You currently have 0 posts.

PSA- PDC
Rest in Peace my boys
Zeus 2000-2009
Odin 2010-2011
Banned
Join Date: Jul 2009
Location: Jeff. County, NY
Posts: 9,001
RIP Karl. An era has come to an end, may you be re-united with all the dogs waiting at the bridge for you.
Rest in Peace Karl
---
"A House Is Not A Home Without A German Shepherd"
What a loss
RIP
---
"For the animal shall not be measured by man. In a world older and more complete than ours they move finished and complete, gifted with extensions of the senses we have lost or never attained, living by voices we shall never hear."
Very sad news...indeed an era has come to an end. Rest in peace Mr. Fuller.
---
Cathy
PAM ARCHEX Jubilee von Fernheim OB1 TR2 AD VCD1 RE AJP OAP OFP CL3-R CL3-F NAC RL1X2 RL2X2 RL3 RLVX RATI RATO TC CGCA CGCU
Yasmina Rose von Fernheim RATI
RIP Karl Fuller and Kirshental

Looked at the pedigrees of the dogs advertised for sale....most had one line female usually, that carried the name Kirshental back through generations, and most of the males used for producing litters were well known show males...

Lee
---
Csabre Sch1, Hexe Sch2, SG Bengal, Lynx, Komet, Kira HGH & Kougar v Wolfstraum ~ Ziberia IPO1 ~ ATB Basha, Kougar & Kyra, Fenja, Sch3s, Cito, Sch2, Danger RH & Alice Sch1s ~Kelsey
wolfstraum.net

Junior Member
Join Date: Feb 2011
Posts: 38
My first gsd when I moved out on my own was from Kirshental (working)lines that were used in Fidelco guide dog program. He was the "best".
RIP Karl, you produced some of the finest dogs in the world.
This was Jake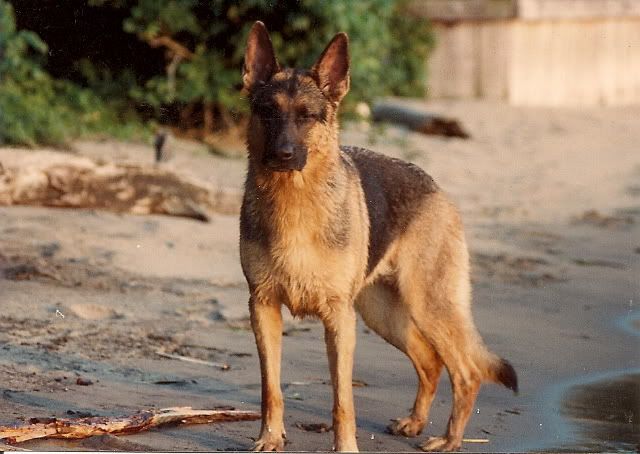 ---
Diane
Ozzie vom Kleinen Hain
Danger Danger vom Kleinen Hain aka Masi
Tranquillo's Kizzy
Jakoda's Kholee
"Angel" Jakoda's Bewitchen Sami CD OA OAJ OAC NGC OJC RS-O GS-N JS-O TT HIC CGC
"Angel" Steinwald's Four x Four CGC HIC TT
"Angel" Harmonyhill's Hy Jynx NA NAJ NAC NJC RS-N JS-N HIC
"Angel" Jakoda's Jagged Edge
Crowned Member
Join Date: Mar 2007
Location: Grand Rapids, MI
Posts: 19,496
Nikon (right) about 9 months old, with his dam Kira (Quellie vom Kirschental)
Rip
---
My dog is from Kirschental lines and he is by far the most smart and gentle dog I have ever had.....Somewhere in the mix greatness was found......RIP..job well done.