PDCH Solstice!!
---
Solstice earned her PDCH at our USDAA trial yesterday! Only six GSDs before her have earned this title, and I'm pretty sure she's the first white shepherd. I know I don't post a lot so you don't really know us but this is a pretty big accomplishment for her. When we first started group classes she was too terrified to even go near the equipment, and here we are now! She also accomplished this just before her 3rd birthday in a couple weeks, so she's come a long way in a short time and I'm eager to see her confidence continuing to improve. She's not as fast or confident in trials as she is at home, but getting better all the time.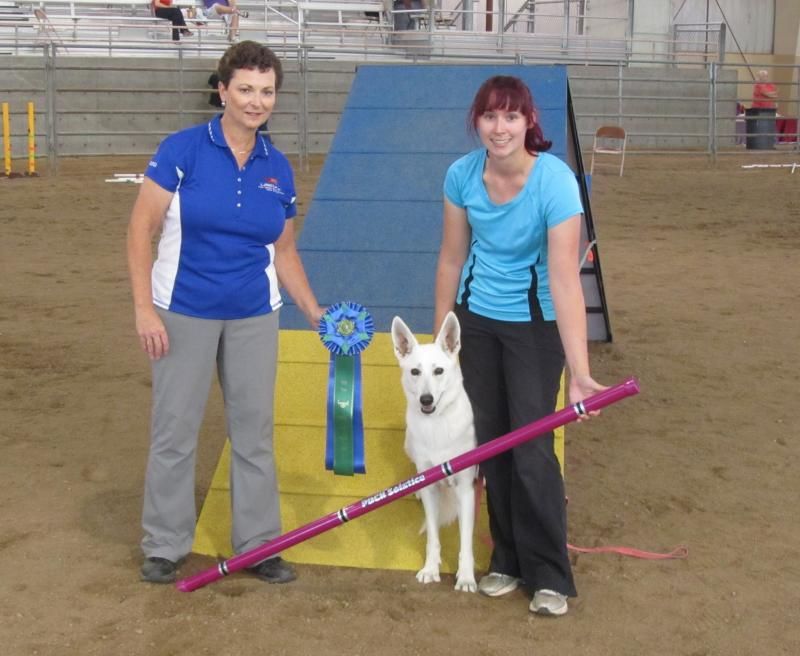 Here is video of some of our runs over the weekend. We're not the fastest out there but we get it done! Team Jumpers was the first run of the weekend and looots of dogs E'd on that course (especially in the first 5 obstacles), so I'm glad we made it through. Over the weekend we Qd in every class but one, where Solstice said it was too scary to do the teeter by herself in the gamble.
USDAA Laramie 2014 - YouTube
Now if Ryker can ever get a fricken Starters Jumpers Q, that will be like getting a championship with him... :P
---
Ryker: (USDAA) SR (DOCNA) C-BTA C-ISLA
Chandra: puppy in training!

Living forever in my heart, Solstice: (AKC) MX MXJ MJB (USDAA) PDCH (DOCNA) MEX-Bronze
Huge
That's awesome
---
Shanna

My Pack:

Jasmine - Female Miniature Poodle - born Aug 15, 2010
Loker Delgado Von Stalworth - Male GSD - born Jan 26, 2012
Koda & Zazu - 7 year old male cats
Alex - Male Cocker Spaniel (rescue) - RIP Cuddlebug 2007-2010
To view links or images in signatures your post count must be 10 or greater. You currently have 0 posts.

Congratulations! It's nice to see all that hard work pay off.
---
Linus van Pelt Haus Juris CGC. My Sweet Babboo, born March 17, 2014.

Madeline Ronan Heart (Maddie) Dec 1997 -- November 22, 2013 Rescue GSD, Sable
To view links or images in signatures your post count must be 10 or greater. You currently have 0 posts.

"I like Daffy" Moderator
Join Date: Jun 2003
Location: New Douglas, IL ( near St. Louis)
Posts: 3,279
Yay Solstice! I remember you posting about your ups and downs with her. It is so wonderful to hear about how well she is doing! You should be proud.
You guys make a great team!
The Agility Rocks! Moderator
Join Date: Aug 2001
Location: Bushkill, PA (The Poconos!)
Posts: 27,408
Congrats! Great job and thanks for the picture too!
---
***
MACH3 Bretta Lee Wildhaus MXG MJG MXF MFB TQX HIT CGC TC
Glory B Wildhaus AX, AXJ, XF
plus Miss Osin Blue Wildhaus
"Nothing new can come into your life unless you are grateful for what you already have. ~ "--- Michael Bernhard, gratitude
Huge congrats to you both!
---
Lauren

Sinister ~ black male GSD 3.11.09
Draven ~ male Dalmatian 6.30.13
Congrats...it is awesome to see a white shepherd accomplish so much...Proof that they are great dogs along with a dedicated human to guide them....

Beautiful dog by the way....If I can ask, what is your grooming routine-what do you use to keep her looking so white...