Kaiser barks & charges at visitors?
---
Hello!
My dog Kaiser, a three year old German Shepherd, is very gentle natured and an all around good dog.. with one exception. He goes NUTS when visitors pull into our driveway! Typically he'll do a little barking if it is one of my family members but that is just to alert us someone is home. If it isn't a family member, but happens to be someone he has previously met, he'll bark and continue to bark until the visitor steps out of the car and says hello to him, then the tail wagging begins and he immediately goes into "PET ME!" mode.
If it is a visitor he has never met, he barks his head off and usually will not listen to a word we say in an attempt to call him off. He will not settle down until we grab/touch his collar then he will finally quiet down and sit. However, if we are not around, he'll bark at them, and usually if they are good with dogs a visitor can coax him into settling down a bit. He'll usually bark at them again if they turn to leave. HOWEVER, sometimes (and this is the part that really bothers me) he will go up to them and mouth their hands. He's never bitten or hurt anyone but I am terribly afraid that one day, the wrong person will meet him and react in a way that might make him bite.
When he was young he was socialized very well, we took him to ball games and walked him around town, and on a leash or outside of our yard he is always very friendly. Once acquainted with a person he's absolutely charming.
I would like to know what is causing him to react this way, and how I can stop it. I'd like to first attempt to fix the problem myself if at all possible, so I would prefer training tips if I could get them and I realize that if this doesn't work I'll have to seek out a trainer. I'd just like to understand the psychological aspect behind this and how I can break the behavior. Ultimately, we like that he barks to alert us when someone is at our home, but we want to be able to call him off when necessary. At this point, he totally disregards anything we say until we touch his collar, and that is a bad thing. It is like he gets so excited that he can't focus at all.
Anyways, any tips or insight is much appreciated! Thanks so much for reading! Here are a couple photos of Kaiser as a puppy, and some more recent shots..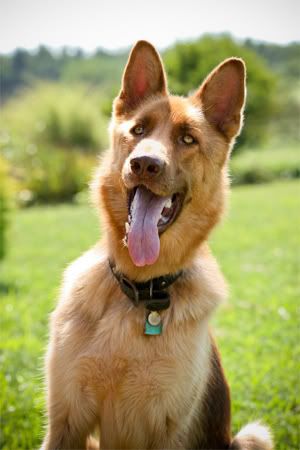 Re: Kaiser barks & charges at visitors?
---
Ok, I'm no help, but I wanted to say that Kaiser is absolutely gorgeous! Your camera is amazing too!

Anway, our dog tends to bark when someone comes up to the house, but usually settles down because I try to get the guests to just ignore him. He doesn't nip or anything, but is generally just annoying!

I'm sure others will have more advice, just wanted to say your dog is beautiful.
Re: Kaiser barks & charges at visitors?
---
This is a recent thread that has some good advice:
http://www.germanshepherds.com/forum...=2#Post1022426
Kaiser is stunning, and you are a great photographer! Welcome to the site, btw
---
Jane~
Kept by
To view links or images in signatures your post count must be 10 or greater. You currently have 0 posts.


To view links or images in signatures your post count must be 10 or greater. You currently have 0 posts.
and
To view links or images in signatures your post count must be 10 or greater. You currently have 0 posts.

Kacie
To view links or images in signatures your post count must be 10 or greater. You currently have 0 posts.
7.21.05-5.01.15
Re: Kaiser barks & charges at visitors?
---
Welcome to the board.

First off, why is it that your dog has access to people who pull into your driveway when you (or some responsible adult that can control him) are not around?

Personally, and not knowing much of the situation, I think you need to keep better control on your dog. Up to this point you have been fortunate that none of your visitors over-reacted when they saw your dog coming. It is only a matter of time before this happens and then your dog and our breed has yet another bite on the books.

What that means for you is either the labeling of your dog as dangerous and what goes with that, or a requriement for your to euthanize your dog. Other possible issues are loss of homeowner's insurance, and a lawsuit.

For the breed it means putting us that much closer to breed specific legislation, legislation requiring stipulations such as muzzles when dogs are in public, being put on the ever-growing lists that insurers will not insure, and landlords will not allow, and homeowner associations will ban.

I know it sounds harsh, especially since your dog has done nothing serious yet. But the hope is that this NEVER goes there.

Please do consult a trainer or behaviorist. Take your dog to classes. Practice nothing in life is free with him. But most of all, keep him contained so that there is not a terrible accident with far-reaching consequences.

As you work with your dog in classes, starting with basic obedience and then graduating to advanced obedience, agility, canine good citizen, herding, tracking, and any number of things, you will develop a bond with your dog where he will immediately accept your command to down or sit when a visitor is in your drive.

At that point, you can thank your dog for the alert: Kaiser, Good Boy, Enough. And the enough is his cue that his part is done. He no longer needs to protect you as you have matters well in hand. You can the tell the dog to sit or down while you welcome your guests or take care of business.

Training will make a huge difference to the dog in knowing who is in charge and will build his confidence and trust in you.

If your dog is simply loose on your property, this is very dangerous for your dog and others. It really does not matter if you live in the country. There are many dangers and in this sue-crazy society there is no place for dog running loose.

If you have an e-fence, there is still the dangers of animals or persons coming within the confines of your e-fence and causing your dog injury or being injured by your dog.

Having your dogs securely kenneled within a fenced yard that is not easily accessed to the general public is the only way a dog should be out without your being right with them.

Lastly, if this behavior has just changed recently and dramatically, take your boy to the vet first and rule out a physical reason for the behavior change.

Good luck and welcome to the site.
---
Jenna, RN CGC & Babs, CD RA CGC HIC
Heidi, RA CGC
SG3 Odessa, SchH1, Kkl1, AD
Ninja, RN CGC & Milla, RN CGC
Joy, Star Puppy, RN CGC
Dolly CGC & Bear CGC
Hepzibah
Re: Kaiser barks & charges at visitors?
---
Thank you for the kind comments! I appreciate them, and I will definitely be checking out that thread!

We do have a fence for Kaiser, as well as a kennel and a garage that he has access to. We do live in the country on a farm. Kaiser has access to a lot of land, but he is always in our company or behind our fence. When he approaches people it is typically when we are out in the yard with him or he is alongside my Father at work. It isn't that we aren't around, I may have not been clear on that.

I appreciate the perspective and I don't want to be another statistic to give the GSD a bad name. First I will seek out a method to correct the behavior at home, and if that fails I will pursue professional help. Training would be quite beneficial and is not something I will rule out if the behavior is broken at home, but this is my first step.

Thanks for the thoughts, and the warm welcome.
Re: Kaiser barks & charges at visitors?
---
Welcome to the group, Kerisaurus! Kaiser is just beautiful! His eyes and coloring are really gorgeous, and I LOVE that first picture of him as a pup
Quite a few of us have issues with our dogs being too protective and/or scared with visitors/strangers coming to the door. We adopted Heidi about a year and a half ago and just in the last three months, she's started barking at strangers (especially men) who come to the door. She especially dislikes men with beards, which is difficult because my sister's boyfriend has a beard!
We've been working on making her go to her matt when the doorbell rings, which seems to help a bit. I need to work harder on this problem myself as summer is coming and relatives will be visiting. My plan is to get some really good treats and give them to her when we have visitors over that she has a problem with. I think the trick is to get really good treats and only give them when the dog is calm.
Good luck in overcoming this issue! You've definitely come to the right place for information and support!
---
Karin and Dave

Heidi, 9-year-old GSD
Adopted on 10/14/07 from:
To view links or images in signatures your post count must be 10 or greater. You currently have 0 posts.


Sheba, GSD/Malamute
To view links or images in signatures your post count must be 10 or greater. You currently have 0 posts.

Banned
Join Date: May 2007
Location: Wisconsin, USA
Posts: 2,415
Re: Kaiser barks & charges at visitors?
---
As always, to the OP teach Kaiser with a sit/down command when visitors approach, using a light lease and a small pronged collar. The dog should catch on immediately.

Initially I was going to disagree with Selzer's comments, because the dog does not appear to be fearful or clearly not overly aggressive.

Nonetheless, the behavior can escalate, and I know that from personal experience.

Selzer does exxagerate a bit about what might happen if the dog bit someone while on your property. In Minnesoat and Wiscosnin nothing would happen. If a bite took place off your property that is a different issue, but again not as serious as Selzer suggests.
Re: Kaiser barks & charges at visitors?
---
I'm not the best person to give advice, but I would recommend more in-depth obedience training, possibly one-on-one sessions. His behavior is not unusual for a GSD, but nevertheless should be corrected so it does not escalate and/or show a bad example for the breed as a whole. You are not alone though - that's one thing I'm currently working on with my dogs as well. It really does take patience and consistency.

I do have to add though, that Kaiser is a gorgeous, gorgeous, GORGEOUS dog!!! And very rare! I've never even seen a red! He's absolutely striking! Welcome to the board!
---
"To err is human, to forgive, canine."



Mom to:

Shelby - GSD 6 yrs (2/1/05)
Rocky - GSD 2 YEAR! (10/30/08)
Lyric - GSD 16 weeks (4/12/11)
Rico - GSD 2/20/00 - 11/21/08 We'll always love you "Mr. Poo"
Re: Kaiser barks & charges at visitors?
---
In Ohio, if your dog bit someone on your property, you dog will not be labeled a "dangerous dog" only if that person was committing a crime or teasing the dog.

If your dog is labeled a "dangerous dog" they can take your dog and euthanize it, depending on the seriousness of the bite. If they let you keep the dog, then you have to have $100,000 insurance policy, kennel the dog when you are not with it in a kennel with a top, and wear a muzzle on the dog when it is off of your property.

With all of that, the bitee may still sue you. And they would win. Lawyers would line up outside their door for the case. And finding a lawyer to defend you could be interesting. You will probably not be criminally prosecuted. If you can prove that you were not negligent you will not be criminally prosecuted. Timber, if that rescue you had that has attacked 12 dogs and has its teeth broken out of its mouth bit a person, you COULD be charged criminally. Because of the history, the district attourney might say that by not leashing and muzzling that dog, you were criminally negligent. Then you could go to jail.

I do not think I am exaggerating.

If any of my dogs bite someone, I will lose my homeowner's insurance and might lose my house, because I have a mortgage and need insurance. I would most likely have to give up all my dogs to get insurance again.

It is true that one dog bite more will not make or break the breed. But when localities are looking into breed specific legislation, they look at the number of bites per breed. They do not necessarily take it into consideration that we are number three on the AKC popularity charts. Nor do they care that GSDs generally do not continue to bite, maul, and kill their victims. GSDs bite and they generally require medical attention. That is all that is needed.
So it does indeed hurt us all.
---
Jenna, RN CGC & Babs, CD RA CGC HIC
Heidi, RA CGC
SG3 Odessa, SchH1, Kkl1, AD
Ninja, RN CGC & Milla, RN CGC
Joy, Star Puppy, RN CGC
Dolly CGC & Bear CGC
Hepzibah
Elite Member
Join Date: Jan 2009
Location: NE, Ohio
Posts: 1,870
Re: Kaiser barks & charges at visitors?
---
Personal experience here. I live in Ohio, my son was bite in the face by our neighbor's dog when he was playing out their house. He didn't tease the dog she just attacked him why we don't know. My husband was there. My son required 70 stitches on his cheek and under his chin where the dog bite.

They were required to quarantine the dog in their backyard for 10 days in a enclosed fenced areas (the built a chicken type fenced area for that period of time), the dog was required to go to the vet and that was the extent of it that I know of. We did use their homeowner's insurance for pain, suffering and bills (we did not sue) but he has until he is 18y to sue if we wanted to because he is a minor.

After that the dog lived the same way it always did and sat on her leash in the yard all the time with no fencing.

In the state of Ohio if your dog bites someone no matter what the owner is responsible for damages.